This post may contain affiliate links, which means that if you click on a product link, I may receive compensation. This compensation comes at no additional cost to you, and I only link to products I absolutely love (and think you would, too) and companies I trust!
---
Thinking of hosting a virtual baby shower? With the "stay at home" mantra we are all facing, a virtual shower is just the ticket to celebrating with friends and family – while maintaining a safe environment for the mom to be. From finding the right technology to entertaining virtual games, we've got you covered.
Choose your Date
Select your on line service
Send Your Invites
Easy Decoration ideas
Get the guests involved
Starting the virtual shower
Fun – and free! – virtual baby shower games
Choose your date and on line service
First – Select your date. Just like you would an in-person party, you'll want to select the date for your virtual baby shower at least 4 weeks in advance. You want to make sure guests will set aside time during the day – even though they will be attending from their homes. And too – if you are having a "shower by mail", you'll want to give the guests enough time to order a gift before the big day.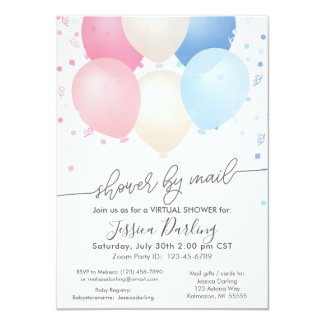 Decide which on line service to use.
Next, decide where you will host your on line shower. Some of the more popular on line services are Facebook Events, Zoom, Houseparty, Skype or Google Hangouts. As long as everyone has an internet connection, a phone or computer with a webcam, then a live video is the way to go. You can also hook up your computer to your tv for a larger view if you like. If you're hosting on facebook, make sure you set it to private. If you haven't created a live event before, it's pretty simple to do. In fact, Facebook has an easy 5 step tutorial.
Sending out the invitations
Next, send out your invitations. You can easily text your invites or send via snail mail. The main difference is you'll want to make sure the information is clear about how and where to log in. You can add the info on the invite or have them RSVP to get the party link and directions on how to log on.

If you're celebrating with relatives across the country (or abroad) make sure it's clear what time zone the party starts and ends. Try to keep the shower short – anything over an hour may be difficult to hold everyone's attention. You can also give guests a link to a baby registry and mailing address to make it easier for them to ship gifts before the big day. Popular baby registries are: Amazon, Target, Walmart , Buy Buy Baby, and Pottery Barn.
Personalized evites
We've had several requests from hostesses who would like to send a personalized invitation via evites. To help with the questions we've been getting, we created a free step by step download on how to add your own design.
Keep in simple – and in focus 🙂
If you're hosting it at the mom-to-be's home (or if the mother to be is hosting), you won't need to go over the top with the party decorations. Even though it's a virtual baby shower, you still want to give a party atmosphere for the guests to enjoy. You could consider some simple decorations – maybe a baby shower banner, party balloons or a cute stuffed animal to decorate around mom to be.
Baby shower in a box
If you're not hosting the shower at the new mom's home, you can send her a "shower in a box" kit to her a week or so before the shower. That gives the mom to be one less thing to worry about. Inside, you can have the decorations for her to display. If she has family with her, you can ask them to help decorate her space. On the day of, make sure all the gifts are within arms reach (or helpers can hand them to her).
You can also ship the mom to be a party backdrop for her to sit in front of on her special day. There are literally hundreds of choices – a few cute ones are shown here: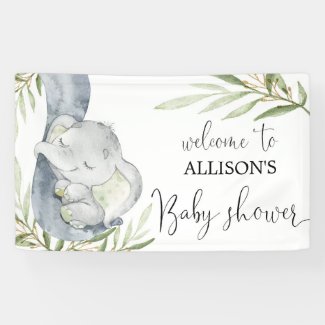 Surprises are always fun
Sending a bouquet of fresh flowers a day or two before the shower will add a beautiful and thoughtful touch. You could even surprise her when the party starts with a bouquet of flowers. You could ask dad-to-be or a neighbor to deliver them at a pre-arranged time.
Get the Guests Involved Too
Another cute idea is to mail each guest a "party box" in advance of the shower so they have decorations to display at their own homes. For example, if you know a baby boy is on the way, you can order 100 blue balloons pretty inexpensively – (or pink balloons for a girl) and then mail 4 or 5 to each party guest. You could also include fun hair bows or barrettes for everyone to wear. As a surprise, you can ask everyone to wear the mom to be's favorite color. If you do mail a party box ahead of time, you can also include party games or other directions for the special day.
If the mom-to-be has certain hobbies or interests, by all means include a theme in your virtual shower. For example, she may be a book worm – each guest could ship a book for her to open at the shower. It's also easy for guests to purchase books on line. There are thousands to choose from too such as Welcome to the World by Sandra Magsamen or the always popular Very Hungry Caterpillar.
Virtual Gender Reveal
If you're having a gender reveal virtual baby shower, the "what will it bee theme" is always a cute one – and perfect for spring or summer. You can download our free "what will it bee" poster to hang behind the mom to be. You could also include the "Mommy to bee" sash and Daddy to Bee decoration in the party box. Guests can join in the fun by shipping bee themed onesies or bee blankets to the shower before hand. Check out our baby bee shower blog for some fun mom-to-be ideas.
The day before …
Send out an email reminder the day before to make sure everyone knows how to log in. If there are any user names, passwords and log in instructions, make sure they have those in the email. You could also remind them to have their party decor and a champagne glass if you are having a toast. If you are playing shower games, make sure they have the game cards ahead of time and they are ready with pencil and paper.
If you have technically challenged guests, see if there is someone in the household or someone who can call them to help walk them through the steps. Some party goers also use voice such as amazon echo to get started.
Practice makes perfect
Make sure you practice the the livestream BEFORE the big day. You could get three or four family members to do a practice run a several days before to make sure microphones and cameras are working properly. You'll want to make sure the computer or tablet is positioned perfectly to see the mom to be, that the volume is loud enough and connection is clear. If you're not hosting from mom-to-be's home, be sure to include her in the practice run to make sure she knows the ropes. You might also include the "technically challenged" in the group to make sure they can logon on the day of.
The day before or the morning of, be sure to text or call all the guests to make sure they have it on their radar. On the big day, be sure to logon (and have mom to be on too) at least 20 to 30 minutes before to greet all the guests as they zoom in.
Getting Started 🙂
As the host of the on-line shower, it's up to you to get the introductions going. You can start with introducing yourself and then going around the "cloud" to have the other guests speak up. It's important that you direct the traffic since you don't want two people talking at the same time. As you name the guest, ask them to answer these four questions.
Your name?
Where do you live?
How do you know the mom to be?
Tell us one fun memory you have of the mom to be.
This should get the group engaged and familiar with the other faces they see on the screen. Once the introductions have been made, you can ask the guests to join you in a toast to the mom to be. Then, indulge in a few (three at the most!) easy baby shower games.
Fun baby shower games for virtual showers
A fun virtual game is "Guess the Price" or "The Price is Right". The host holds up the items to the camera and each guests tries to guess the price of the item. The one closest to the total wins. You can mail or email the free game sheet below to your guests so they'll be ready for the game.
Guess the baby photo!
Jeopardy Baby Shower
If you would like a fun, interactive game to play at your virtual shower, there's nothing easier than a game of jeopardy! Jeopardy labs has an easy and fun way to create a jeopardy game for your shower. They even have pre-made baby shower games – all you do is send the link to your guests and let the fun begin!
Guess the baby photo
This is perfect for virtual showers 🙂 Have each guest find an old photo of themselves as a baby or toddler and email them to the host ahead of time. The host will then show each photo on the screen and give the guests time to guess who the baby is. You know each guest will get at least one right! Whoever gets the most correct wins.
Finish Mommy's Phrase
Here's another baby shower game that's perfect for virtual showers. Mail or email everyone the game card before the big day. Everyone writes their answers ahead of time and then mom gets to reveal her answers as everyone keeps track of their guesses. Download the FREE baby shower game 🙂
Guess the number of gummy bears
What could be easier – and more perfect – for a virtual shower? Easy to create – just find a jar, pour in gummy bears, animal crackers, teddy grahams or even chocolate kisses – and let the guessing begin. Each guest can write down on a piece of paper and hold up their answer before the big reveal.
Baby Shower Bingo
Another free download for Baby Shower Bingo! Email or mail everyone a game card ahead of time. Guests fill in the blanks with items they think the new mom will receive. The first to get 5 in a row – BINGO!
Create an interactive poll.
If you're hosting on facebook, you can create polls ahead of time on your hosting site that allow guests to weigh in with guesses on baby's birth date and time, height and weight or ask poll questions to determine "who knows mom-to-be best".
The gift display
It's up to you and mom to be as to the best way to open and display the gifts. Since a virtual shower will be shorter than an in-person shower, you might consider having mom open the gifts ahead of time Then mom can hold each gift up for all to see or zoom the camera around for larger gifts. While the gifts are usually a big part of in person showers, the main focus of the "shower from afar" should be to give mom the love and support she needs during this unusual time.
Go with the flow!
Since a virtual party will most likely be new to many of the guests, make sure you try to direct the flow as much as you can. Undoubtedly there will be glitches, cross talk, cameras not in focus or other hiccups along the way. Just go with the flow, interject some humor and try to make it enjoyable for all.
At the end of the party, be sure to thank all the guests for their efforts and any special guests who helped to make it a success.
Although it's not the same as being there in person, it's bound to bring a smile and special memories for the new mom to be.