This post may contain affiliate links, which means that if you click on a product link, I may receive compensation. This compensation comes at no additional cost to you, and I only link to products I absolutely love (and think you would, too) and companies I trust!
---
2020 – This card pretty much sums it up. It has been a "ruff" year for all of us.
Although many things about this year have been challenging, you can always find comfort with your four legged friend. Since they bring us so much joy, we searched the web to find ways to showcase your dog this Christmas – and fun ideas to bring her joy too. Whether you have a lab, poodle, cocker spaniel, beagle, bulldog or a lovely mixed breed, you're sure to find a sweet idea or two for your pup to celebrate the Holidays!
Ready to get started?
First, find your favorite digital photo and you can have the perfect dog-centric Christmas cards in no time. It's pawsitively simple! Just open up the link to the design you like, upload your own photo and replace it with the one on the template. You can also change the text, the fonts, the colors – add your own style to make it special.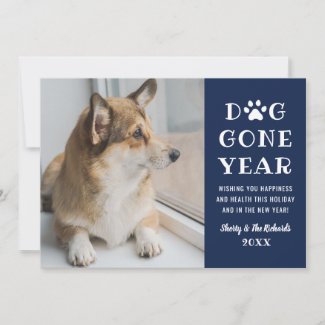 Joy!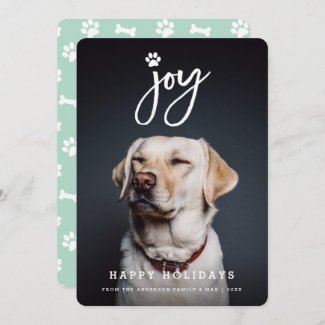 Santa Paws is coming to town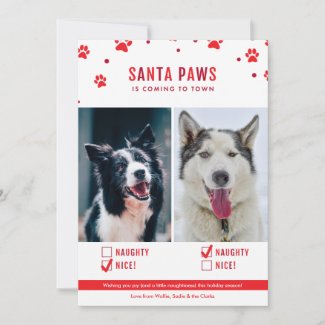 Deck the paws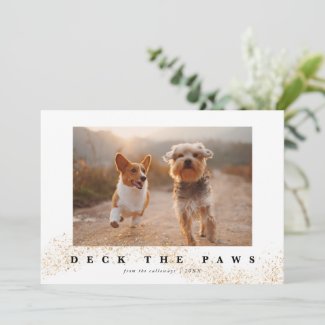 Dashing through the snow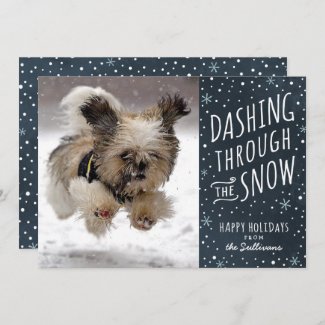 Happy Howlidays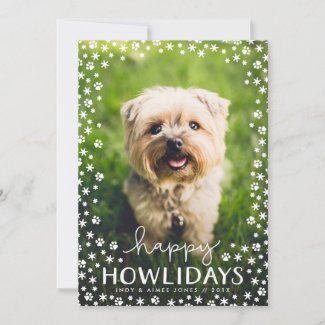 Fleas Navidog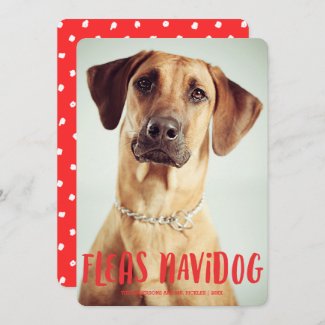 Bark Humbug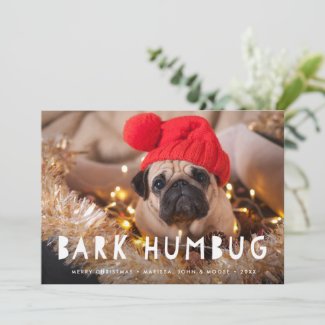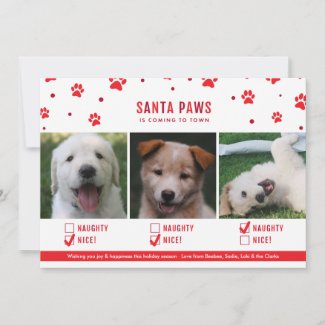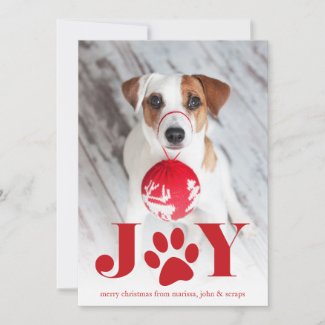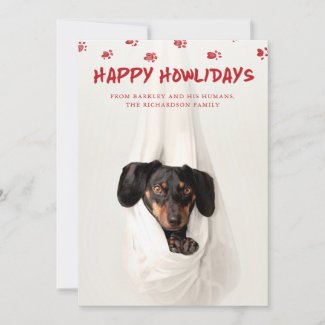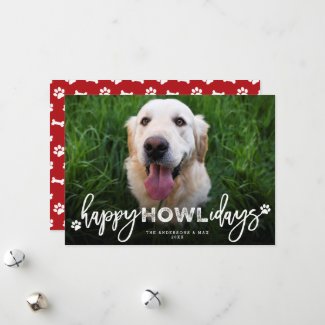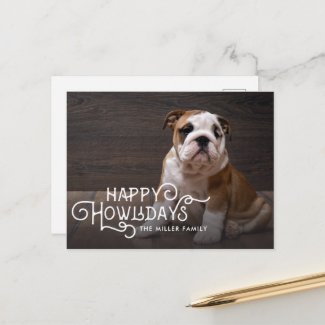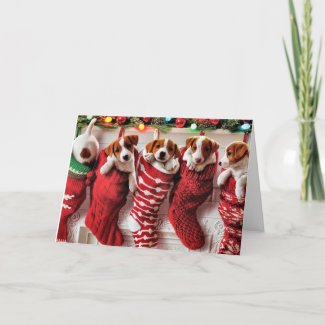 There's certainly a lot of variety here from some very talented designers. If you want to keep shopping for more designs, there are thousands more to choose from. What's more, you can transfer your design to fridge magnets, mugs, posters, stickers – even wrapping paper!
Personalize your Christmas decorations with your dog's name or photo!
We love these darling Christmas stockings! You can easily personalize with your dog's name. For an extra-special touch, these dog Christmas stockings include tiny bones hanging from the cuff of the stocking.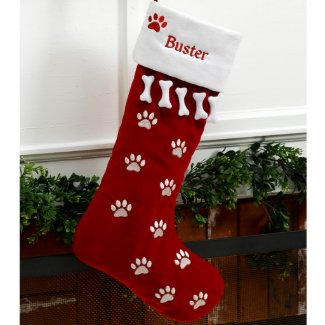 Or add his photo to this cute snowflake design for a little extra sparkle!

This is "pawsitively" adorable stocking from iheart dogs not only is one of the cutest stockings around, part of the profits from your purchase also helps feed shelter dogs at the rescuebank.


Add your favorite pup to your ornaments for a fun dog friendly Christmas!
Especially fun for your dog's first Christmas! Add your pup's photo and name to customize these keepsake ornaments.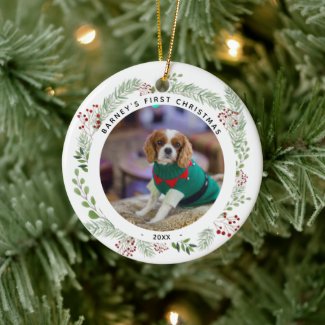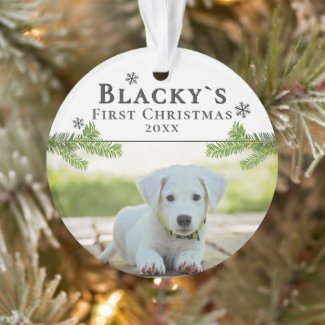 "I love my dog" with a cute photo would look great on the tree..


Choose your breed! This collection has a wide variety of puppies: dalmations, german shepherd, pugs, shiba-inu, poodles and more – all wearing a cute holiday Santa Hat. You can get one, two or – for the super dog lover – you can get the entire collection.

Personalized Christmas dog gifts you're sure to love!
We love this oh so simple dog treat jar – personalized with your dog's name. Perfect for dog treats all year round.
You can have your very own custom print created from your dog's photo. Etsy artist Charmingblush will take your digital photo and turn it into watercolor dog portrait for your home.
Christmas Dog Treats!
We know one thing is for sure: dogs do love treats! So for all you bakers, now you can bake your very own dog biscuit treats with this "bake a bone" dog treat maker. You can make sure the treats you give your dog are exactly what you want. Complete control for the finest natural ingredients for your puppy. Get your recipe for Christmas dog treats.
If you're not a baker, no worries. You can get your pup an entire smorgasbord of food and treats (plus a bandana!) in one convenient discounted bundle. Four paws up and a wag for these Christmas dog treats from "Iandloveandyou" – from Boulder Colorado.
Gingerbread all natural Christmas dog treats – both Grain and Gluten Free! (So, I DO love gingerbread – check out my "gingerbread cookie time " post if you like gingerbread for humans.)
How fun are these! Gourmet Christmas dog treats in fun shapes including reindeer, trees, bones and stars.
And of course you (and your pup) will love these Christmas treats for dogs featuring green and red candy canes!
Christmas treats for dogs on the go!
Treats are great for dogs – even when you away. So while you're away from your dog (or even in the next room), you'll love this! TOSS a treat to your dogs via the free Furbo app. Fill it with your dogs' favorite treats & play a game of catch with the Furbo treat camera.
Gingerbread dog toys are great for small and medium-sized dogs. The cute little gingerbread men have squeakers to keep your furry friend entertained.
Or what about this adorable Holiday Hedgehog Plush Squeaky Dog Toy. Love the tiny Santa hat!
Deck the halls – and your dog!
Here's a way to help you have the the best dressed pup this Holiday. Dress him up with this cute bow tie and collar with a festive holiday pattern featuring snowflakes, candy cane, gingerbread men and a snowman. This bestseller has plenty of 5 star reviews PLUS they give back 10% of the profits to various dog loving charities throughout the year. (November is French Bulldog rescue network)
Here's another cute bandana and bow tie with a bright Christmas tree pattern.
Although this is labeled as an "ugly sweater", I kind of like it! I've always been partial to nordic patterns and this one is certainly smart – and cute – on this pup.
For little dogs: Here's a bold green and white stripe dog sweater with a super cute reindeer holding colorful ornaments.


Fun clothes for dog lovers!
Life is better with a dog! So true 🙂 This shirt from the Humane Society features a super cute cartoon dog with a bone and a ball.
We all love comfy sweatpants these days and these do the trick! Plus part of the proceeds help feed shelter animals. Designed exclusively for The Animal Rescue Site.
From iheartdogs, here's a simple and cute slouchy t shirt featuring a dog and a heart. Plus, some of the profits from your purchase go to help feed shelter dogs through this rescue bank charity.
Cute and comfy dog mom t shirt with paw prints. Available in a variety of colors and tye dye too.
Rescue me!
The best things in life are rescued! When you adopt a rescue dog, you can be proud to wear this cute paw print tshirt.
For all those who adopt a dog, you might be curious about the ancestry of your four legged friend. Did you know that you can get your dog tested with a dog DNA test for breed and ancestry information? Simply collect your dog's DNA with a cheek swab, activate your kit online & send your kit to the lab . You'll receive your genetic analysis of your dog's ancestry and breed identification in about 2 weeks.
Photography ideas for your dog this holiday.
Check out our creative ideas to showcase your dog this holiday season.

Gift tags for dog lovers 🙂
How about a fancy silvery inky paw print for your gift tags? You've got to click through to see the video of how these shine – they would look wonderful under your tree.
Free printable dog design gift tags
FREEBIE! My favorite dog model of all time – my very own Zoey – was the inspiration for this season's freebie. Enjoy these dog friendly gift tags featuring "HO HO HO" and "NO PEEKING" for your holiday's gift wrapping.
Sign up for our newsletter and get the freebie!
We'll send you this freebie AND instant access to our Freebie Library.
Follow me on pinterest!
Reader Interactions