This post may contain affiliate links, which means that if you click on a product link, I may receive compensation. This compensation comes at no additional cost to you, and I only link to products I absolutely love (and think you would, too) and companies I trust!
---

Focusing on your dog's eyes is a great way to capture their spirit
First up, pups in front of a Christmas tree with the soft and warm bokeh lighted effect. If you wait long enough, you're sure to get a great photo of your little guy napping under the tree. I love how the photographer got low to the ground and focused on the pup's sleeping eyes to get the perfect closeup. Just be quiet while you're snapping so as not to wake him up!
Look at this sweet face on this little puppy in front of the decorated tree. The photographer was able to get at the pup's eye level to frame the shot. A cute little face – with the perfect background – makes for an excellent Christmas photo!
An adorable Beagle looks so peaceful on his plaid blanket with the bokeh effect softly in the background. Look how the photographer focuses intently on the eyes – the window to the soul.
Treats are always a great distraction
Another great angle from the photographer as she gets a great pose of the dog looking intently at something (or maybe someone with treats 🙂 ) Our experience has been that you have to take lots and LOTS of photos during the photo shoot to find the one that captures the spirit of both your dog and the season!
This Christmas dog photo features another adorable Beagle – they are so photogenic!
A dashing dacshund
It's best to start taking photos when your dog is relaxed and comfortable – and there's no place like home! This photographer was able to capture this sweet pose from the adorable multi colored Dachshund. What's more, you can see that she's pretty calm – maybe waiting for a treat – Good Girl!
Look at the mug on this pug!
While he does look a bit worried (who wouldn't with all of those wrinkles), we do love the focus on his big brown eyes! This Christmas dog photo is even more festive with his cute patterned patterned sweater.
Add a backdrop for a bokeh effect
If you're not a professional photographer, you may find it daunting to get the focus correct to get this soft bokeh effect in the background. However, there are a lot of great tutorials about how to get this effect with your camera or even your iphone. But if you're not happy with your own results, you can always get a pre-made background! Here are a few samples: these warm Christmas backdrops are perfect – for your entire family – including your pups!
Once you have your favorite shot, you can upload your image to a wide variety of templates – such as this Santa paws card – a perfect way to showcase your pet!


Add a simple prop for your Christmas dog photo
A big red bow, an angel or gift wrapped packages make a great addition to bring the holiday spirit into your photo. Hopefully, your pup will be able to sit still long enough to give you one or two great shots with a Christmas prop (just make sure you have plenty of patience AND treats!)
Here's a low to the ground shot that captures the cuteness of this little Jack Russell Terrier with a giant bow! As an extra precaution, you may need to put a little extra double stick tape to make it through the photo shoot without the bow flying everywhere.
Guilty or not guilty?
Hard to know unless you saw her paw through the paper. This is another cute photo shoot idea to have with your pup. Just put out the package and start shooting. After a bit of trial and effort, you might just find an adorable "not guilty" pose like this one.


This Golden Retriever looks a bit protective of the angel, doesn't he? While any Christmas angel can make for a fun photo shoot, we love the angelic look and focus on both of them!
Yes, the elf on the shelf is down! We think this adorable Shiba Inu is interested in keeping the elf for herself. Once again – a simple prop plus a lot of patience equals a super cute Christmas dog photo.
Natural light is always best when possible
The timing on this one was absolutely perfect! Who knows how long it took to get this cute photo of the two of them watching for Santa. Best of all, the large window adds lots of natural light (yes!) and the lighted Christmas wreath in the window adds such warmth to the scene. Love it!
This one must have been a challenge. Maybe the photographer bribed him with some treats. At any rate, this candy cane prop is perfect for this wonderfully white fluffy dog. Again, the natural light works wonders with this photo.
Not quite asleep but fading fast. If you have a cute wicker basket, you can line it with fabric or toss in a Christmas pillow and blanket and create your own special holiday photo op.
Unbelievably adorable. The paw and the face of this cute little dog claiming the package as her own. While this may have taken a lot of shots to get the perfect one, it doesn't get better than this!
Deck the halls with your favorite furry friend
If you find a great photo, you can upload it to an ornament template and personalize with your pup's name for a keepsake for years to come!

Add a cute hat, bow tie or sweater
Of course you can add a little extra to your pup's photo shoot by adding some cute Holiday attire such as a Christmas dog collar, hat, bow tie or sweater.
This red and green pet collar is adorable – love the little red balls accent too. This guy looks like he just heard a squeaker toy – his ears slightly perched to catch this cute pose. It's a good idea to have a helper with some small noise makers to get your pup's attention while you get the shot.
A red and white candy cane flavored small dog sweater is a perfect fit for this little Pomeranian. Once again, the photographer captured those beautiful brown eyes perfectly.
Another adorable Christmas collar and the perfect focus in on her bright eyes and cute smile!
Dress him up with a bow tie!
Oh my goodness – does he look dapper with his lemon yellow bow tie? Again – great shot from the photographer getting down to the dog's eye level and capturing the cuteness perfectly.
Ahhhh – you just want to go up and give him a big hug. What a sweet face! And we love the Christmas plaid bow tie too.
Look at this shot! The photographer was able to get down low and capture this wonderful photo with this little guy with a cute red and white Santa hat.
The elf hat is perfect. The angle of shot is aweseome. And once again the eyes steal the photo.
Stickers are a fun way to decorate your Christmas card envelopes
Your favorite pup's photo in her Christmas outfit will look adorable on a Christmas sticker too! (This photo may be one you can only do when your dog is sleeping – it's unlikely she would keep the antlers on too long if awake.)

Get a photo op with Santa if you can
Since Santa may be "socially distancing" from the kiddos this year, he may still be entertaining the idea of photos with your dog. Check out your pet store to see if they may have the big guy there for a cute Christmas dog photo op with Buster. (You can always invest in your own Santa suit if you have a willing family member to dress up!)
You can tell Santa is a true pet lover in this photo. I love how he's looking directly into the pup's eyes while giving him a gentle neck massage. This is a keeper for sure!
That was probably not an easy feat. Santa and pup both with big smiles! The question is – How to you get your dog to smile? Answer – You don't! Sometimes it just happens and kudos to the photographer for nailing it!
Santa's holly and peppermint vest really make this photo shine with this friendly Poodle. The stockings in the background against the stone fireplace look amazing. Hard to tell if it's a backdroop or not but it does look great! If so, this might be the Christmas photography backdrop they used!
Add your favorite Santa photo a a postcard and let friends and family in on the fun!

If you're in snow country, take a fun winter photo!
For those of you lucky enough to get a winter snow, be sure to take a photo or two of your four legged friend enjoying the season. This angle from behind is really a fun shot. Plus the jingle bell collar and falling snow make this a wonderfully homey holiday photo.
The first snow of the season brings a bit of skepticism to my very own four legged family member, Zoey. You can see she's looking at me with a bit of angst as she sees all the "white stuff!"
We think this lab may have stolen the red scarf from his mom but it does look great on her! If you have an old sled (or a new one!) and a bit of patience you can get this cute "ready to ride" photo.
Look for unusual backgrounds
I love the angles of this photo too. If you find an unusual spot during the winter such as a brick courtyard, alleyway, or lighted driveway, you can get some interesting backgrounds for your photo. This Siberian Huskey certainly looks attentive during this photo shoot.
This festive and simple bandana dresses up the snowy action photo. Too cute!
Yes, Santa's helper is on the way! This wonderful tobaggon makes an excellent photo op – not only for your furry friends but kids too! I love how the photographer was able to capture both the sweetness and cuddliness of this little guy!
Styling – and he knows it! This guy looks super dapper in his grey knit sweater and white "stockings".

This guy has it all!
Once you've captured your favorite shot, you can add your photo to a template for holiday card giving. Below is an action figure dog "dashing through the snow". There are tons available – check out our Christmas dog blog for more Holiday Dog Card ideas.

Santa Paws is coming to town!
If you have a wonderful photo of your dog (but without the holiday flavor) you can easily add it to a festive card for instant holiday gratification. This excellent closeup of a Shiba Inu is perfect for the "Santa Paws" theme card.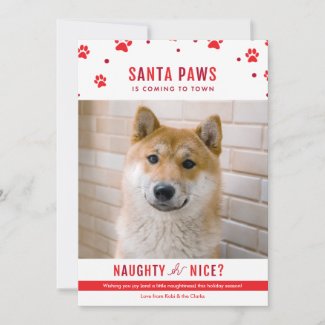 Bringing it home!
This adorable photos of lab puppies in a red truck is a fun way to bring smiles this Christmas. Add the wall decoration canvas to your home this Christmas! If you have six lab pups, an old chevy truck and a snowy afternoon – good luck! We'd love to see your masterpiece!
Looking for a pet to add to your family? Don't forget the shelters!
Petfinder is a great resource to find a new four legged friend in a shelter near you These cuties are from the Midwest but you can enter your own zip to find shelters and available pets in your area.


Need more Christmas inspiration?
If you need more Christmas inspiration for your four legged friend, check out our "Showcase your dog this Holiday season" for cute ideas, treats, gifts and cards featuring your pup this year!


Sign up for our newsletter and get the freebie!
We'll send you this freebie AND instant access to our Freebie Library.
Follow me on pinterest