This post may have affiliate links. Please see my disclosure.
Let's get this party started!
If there's one thing that warms everyone's heart, it's a gingerbread cookie fresh from the oven. The smells, the flavor, the frosting, the decorations – gingerbread cookies are the best! We have found some wonderful recipes and decorations to bring a bit of gingerbread into your home. Scroll down ⬇ to the bottom for our FREE customizeable "Baked with Love" gift tags for your baked goods – featuring our favorite gingerbread men.
Gingerbread Baking: The Basics
Whether you're having a small baking party – or baking for your family, it's best to start with the basics. If you're brand new to baking, you'll need the essentials to get started. There's no substitute for an excellent mixer; high quality mixers make your recipes go together so much more smoothly. KitchenAid makes a great one – if you've ever used one, you know what I'm talking about! Of course, you'll also need quality cookie pans, spatulas and of course cookie cutters!


Next you'll need some recipes! To find the best, we enlisted the help of these adorable gingerbread man and lady bakers! They certainly know a thing or two about gingerbread cookies – and they would be a fun decoration for your kitchen too!
The most wonderful gingerbread cookie recipes 🙂
First up is my mom's favorite gingerbread cookie recipe straight from her hand me down cookbook complete with dog eared pages and a burn mark on the back cover. Every year we would mix up the dough (so fun adding the molasses) let it chill and then the fun began. Mom admitted she was not a fan of gingerbread but loved making the cookies for the family. And we all loved the smell of them baking and the wonderful gingerbread taste! I'll give it five stars for sure!
Next is a recipe from Food.com Gingerkitten, a 5 star recipe for the "most wonderful gingerbread" cookies. And judging by the comments, Gingerkitten definitely has something good to share.
Next is a recipe for soft and chewy gingerbread. From the baker "A HUGE influence on how your cookies turn out is having the right amount of flour. Too much and the cookies will turn out dry. Too little and they'll spread too much. Even a difference of a couple tablespoons can make a big difference" She has several other helpful hints too – you can find her hints and recipe here.
The baker at gimmesomeoven says "a batch of gingerbread baking in the oven is guaranteed to make your home smell amazing!" So true! And these cookies look amazing too! Check out the recipe for her classic Gingerbread Cookies.
We love these soft round ginger cookies with cream cheese icing and sweet gingerbread men sprinkles. The baker tells us each bite is richly flavored and "slathered in cream cheese icing" YUM! To start baking these goodies, check out her recipe here.
Look at this adorable gingerbread cookie atop a gingerbread cake with caramel cream cheese buttercream. It doesn't get any better than this! If you're showing off your Christmas cookies on a Zoom call, you're sure to get plenty of oohs and aaahs with this display. So wintry and fun!
Cute gingerbread decoration ideas. Once you get your icing tinted, you can get creative! These adorable gingerbread are decorated with knit caps, ear muffs, a pink and white scarf and buttons.
Christmas Cookbooks!
The first book (lower left) simply called "Gingerbread" is authored by Jennifer Lindner McGlinn, a professional pastry chef and dedicated homecook. Another favorite is Holiday Cookies: Showstopping Recipes to Sweeten the Season, filled with favorites like Giant Molasses Spice Cookies and Dark Chocolate–Hazelnut Fudge. Finally, you'll love the Taste of Home Christmas Cookies Mini Binder with a guide to creating impressive cookie platters and tips for organizing a no-fuss cookie exchange.
---
Gingerbread Decorations
You can really dress up your home – and your cookie party – with these fun gingerbread theme ideas. Below is an old fashioned "Gingerbread Baked Daily Sign" which would add that Christmas touch to your kitchen. Next is the cutest gingerbread cookie jar we've ever seen. Imagine the kiddos checking the jar to find a fresh gingerbread or sugar cookie stacked inside.
Below left is an adorable snowman ornament proudly displaying her gingerbread house. That smile shows how happy she is with her creation. And there's a wonderful "grandma's kitchen scent" gingerbread candle to keep the aroma going long after the baking has ended..
This Gingerbread "Baked Fresh Daily" tray is so sweet with the old fashioned typography and soft tan background. This would surely be a hit for a Christmas theme bridal shower.
Cookie mitts for the kids – with cute gingerbread, candy canes and Christmas trees. Your kiddos will love having these special mitts to help with Christmas cookies this year.
With all of the flour, sugar, sprinkles and more, you and your helpers will need some high quality aprons. My favorite for the kiddos is this "cookie tester" apron. Grandma will love this super cute gingerbread pattern. Mom and dad will appreciate the "Christmas Baking Team" aprons.
And of course, there's baking with grandma! You can even personalize with your grandson or granddaughter's name.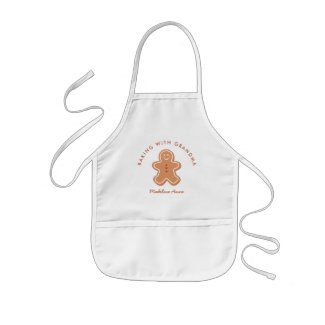 Gingerbread flavored invitations
If you're having a cookie party this year, we found some incredible ginger-flavored invitations 🙂 Even though the party might be smaller this year, it's still fun to get together to bake a little love this season.
Below is my "OH SNAP!" design featuring a pattern of gingerbread, candy canes, Christmas trees and snowflakes with a sprinkling of blue polka dots. The old fashioned rolling pin holds the date and time. And it's so easy to customize! We have this available as an instant download so you can download and print OR email to your guests.
Next is a nice old fashioned "Holiday Cookie Exchange" invitation featuring pointsettias, candy canes and gingerbread houses.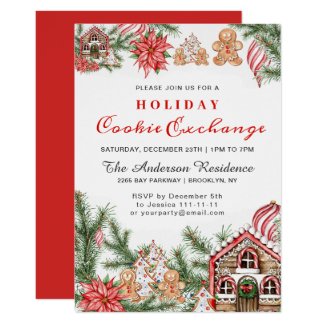 Gingerbread House, Man Holiday Cookie Exchange Invitation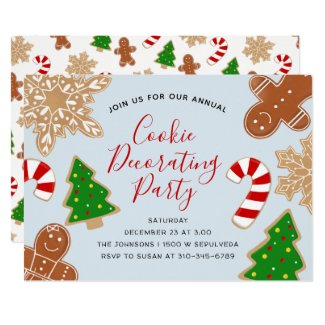 Christmas Cookie Decorating Holiday Party Invitation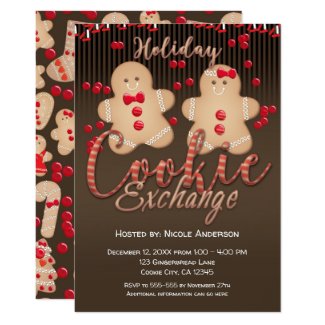 Gingerbread Cookies Holiday Cookie Exchange Party Invitation
Gingerbread front and center

Below is a cute Gingerbread cookie party invitation featuring gingerbread men, gingerbread houses and cute fonts. What's more, its easy to customize too!
This "oh so cute" gingerbread invitation features a giant gingerbread with frosting and sprinkles. You can order this gingerbread cookie decorating party invitation from etsy.
Packaging the baked goods!
If you're giving baked good treats to friends and family, you can pick up some cute holiday decorated cookie boxes! If you are swapping cookies at your party, these boxes are the best. With a festive pattern and a cute snowman on the top, you can pile in lots of different cookies. Here's one satisfied customer "We loved these for our work cookie giveaway! They were perfect and great quality!"
These old fashioned stickers would be perfect to add to your treat bags or baked goods.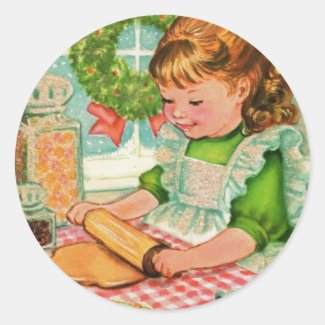 You can also use these cute stickers to decorate your cookie packets or baked goods.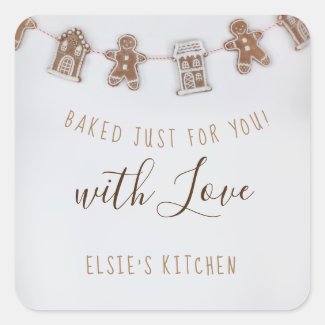 ---
Cookies for Santa!
Of course the little ones will want to leave a few cookies for Santa. This year, you can even customize the plate so Santa will know who did the baking.
Santa might also enjoy a warm cup of cocoa. The gingerbread design makes for a cozy winter mug.
Since you may be calling Santa this year – instead of sitting on his lap – your kiddo will get a kick out of the gingerbread phone cover.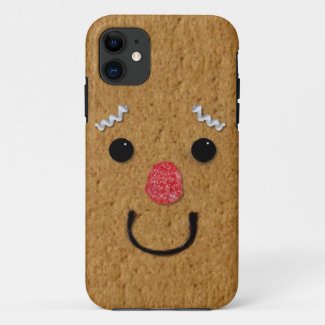 Other Gingerbread Ideas
Gingerbread Bath Bombs!
How about a fizzy gingerbread bath bomb for your relaxing bath. This recipe is from themommymix and includes cinnamon, ginger and molasses. Looks easy to make – and I'm sure it will smell amazing!

You'll need a bath bomb mold to create these little guys. These would make fun stocking stuffers or party favors.
Gingerbread Sugar Scrub
Here's a wonderfully easy DIY recipe for a fresh gingerbread sugar scrub from mommymusings. Stefanie says "The great thing about this Gingerbread Sugar Scrub is that it's all-natural, using ingredients you probably have on hand in your kitchen … it's so good, you could eat it! "

Not only does she give the excellent recipe, she also offers free labels to attach to mason jars. Another fun – and inexpensive – gift idea.
Plush Gingerbread Ornaments
How adorable are these? If you're a seamstress, you can easily sew cute little gingerbread ornaments. The Funky Friend Factory has a lot of tutorials, ideas and a FREE pattern to download to make your own gingerbread ornament. Not a seamstress? No problem – ,you can order a set of 6 from Vintage Charm on etsy.
The Gingerbread Man!
Once the little ones have made their cookies and had their gingerbread bath bombs :), they'll be ready for a good night story. Here's "The Gingerbread Man" story by Gail Yerrill with the classic:

"Run, run as fast as you can. You can't catch me, I'm the gingerbread man!"

This favorite story is the perfect ending to a gingerbread filled day!
Relax and enjoy!
Since this year has been a bit stressful for everyone, it's time to relax with a bit of good cheer. A warm cup of cocoa and fresh gingerbread cookies will do the trick. We hope you enjoyed our walk down "Gingerbread Lane". Please let us know if we can help with any designs for your special occasions. Also, if you have a favorite gingerbread recipe be sure to send our way. We'll be glad to share on our blog. Happy Baking!
---


Having a winter baby shower?
Check out our "Baby it's cold outside" baby shower ideas.
Check out our gingerbread flavored freebie! You can customize these with your name or whatever text you like. These cute gift tags will be perfect to add to your packaged home made baked goods for friends, family and of course Santa!
Hosting a cookie exchange party?
Check out our fun invitations and ideas to make your cookie exchange party fun and flavorful!
Follow us on pinterest 🙂
Reader Interactions