This post may contain affiliate links, which means that if you click on a product link, I may receive compensation. This compensation comes at no additional cost to you, and I only link to products I absolutely love (and think you would, too) and companies I trust!
---
Baby it's cold outside! This "baby it's cold outside" baby shower theme is so fun to plan and decorate – think powdered donuts, mittens, hot chocolate, snuggly sweaters, booties, snowflakes, twinkle lights – and so much more. But first, let's look at some of the cutest wintry baby shower invitations.
Fun Frosty Desserts for the table
How wonderful is this? A white wintry cake with evergreen trees displayed on a wooden platter. The little trees are actually rosemary – so sweet! Get complete step-by-step directions so you can recreate for your own shower display.
Who knew it was so easy to make a dessert display? Get a package or two of white powdered donuts, arrange on a platter, add a cute wintry sign, and – DONE!
These snowflake cookies are so sweet! Get your cutouts here and the recipe here. Or take the photo to your local bakery 🙂
What's even easier is that you can also find them on etsy. Hassle free – and cookies are shipped to you!
Marshmallows dipped in edible glitter atop silver or gold star straws – easy diy decor!
Here are some cute miniature white cupcakes with sweet white frosting. You can find the snowflake decorations here or in your grocery store.
Crystal silver and icy blue decorations on these dipped pretzel rods are sure to be a hit. So inexpensive – yet they look so rich! Here's a how to video.
Sign up for our newsletter and get the freebie!
We'll send you this freebie AND instant access to our Freebie Library.
Need inspiration for your hot chocolate bar? Here's a birds eye view of a luxurious display.
One word: Yum.
I love this display with the frosty Hot Chocolate Bar sign above the distressed wooden table. Add a small fir tree, cocoa mugs and a variety of ingredients for a wonderfully rustic – and warm – display.
Frozen decorations for your baby shower
Make a wish – and write it on a bootie and tie it to a tree. You can really dress up the baby shower with a large tree – or a small one for the table. Either way, your guests will enjoy adding a warm wish for the new baby.
Download the free poem, add a cute frame and display. The poem reads:
"Take a little bootie
to hang upon the tree
Write a note for mom and dad
With advice from you and me."
You can cut out the little booties, add a hole punch at the top and tie with ribbons. Then place them on a tray with plenty of pens for the guests to add their wishes.
Or add the "wishes for baby" cards in a silver bucket with plenty of pens.
Easy DIY – (and inexpensive too) Find a variety of little winter themed infant socks and string them up as decor.
These star shaped fairy string lights will add warmth and charm to your shower – so easy – just string them along the fireplace, dessert table or a picture window.
Here's a bright and bold way to add fun to your shower: The word BABY in giant lighted letters! These white LED lights are about 9 inches tall – sure to be a hit at the party.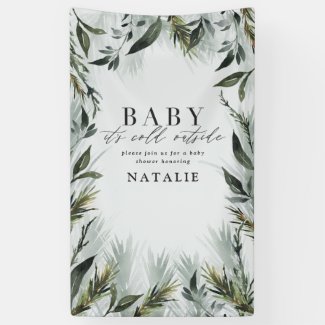 Need a wintry backdrop? This lovely fern "Baby It's cold outside" banner would be so fun to personalize the shower for mom to be. You can find plenty more of designs here.
Need more winter baby shower ideas? Contact us and we'll be glad to help! And follow us on pinterest for our latest ideas.
FOLLOW US ON PINTEREST