This post may contain affiliate links, which means that if you click on a product link, I may receive compensation. This compensation comes at no additional cost to you, and I only link to products I absolutely love (and think you would, too) and companies I trust!
---
We've all been living through a pretty horrible time – one that will be in the history books long after we're gone. But while we're still here, we need to keep the Halloween horror alive! If you're thinking of hosting a Halloween party, you're sure to find some gruesomely wicked ideas.
Bone chilling invites to set the creepy tone for your Halloween Party
These gothic Victorian black, white and scary blood red Halloween party invitations will let your guests know they're in for a delightfully frightful time! An ornate, old-fashioned swirly frame, cracked with age, covered in spooky cobwebs, is grimly magnificent against a lightly textured, moody black background with crackling lightning.
Halloween party invitations featuring a vintage background, creepy zombie clown dolls and a spooky personalized template.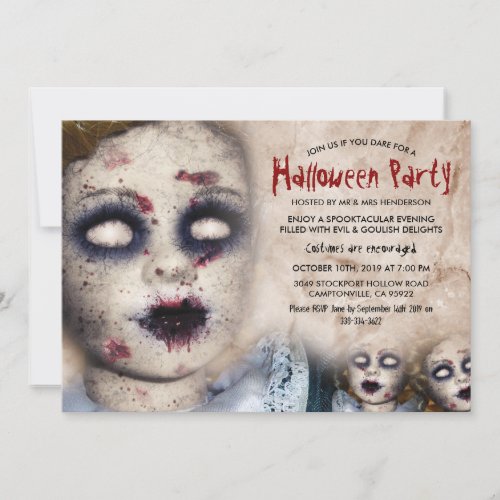 Vintage Halloween Invitation with a gothic theme.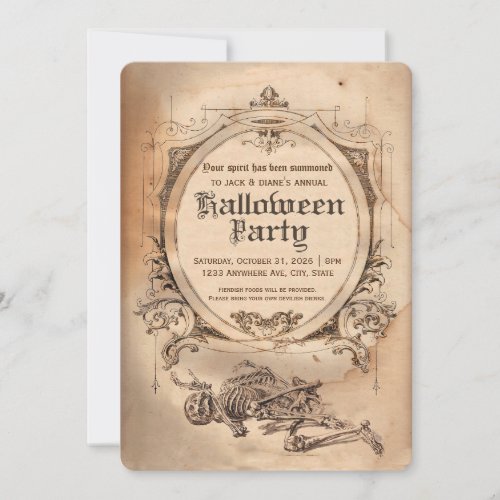 Invite your friends to your adult Halloween party with these boos and booze Halloween party invites. Great for costume and cocktail parties.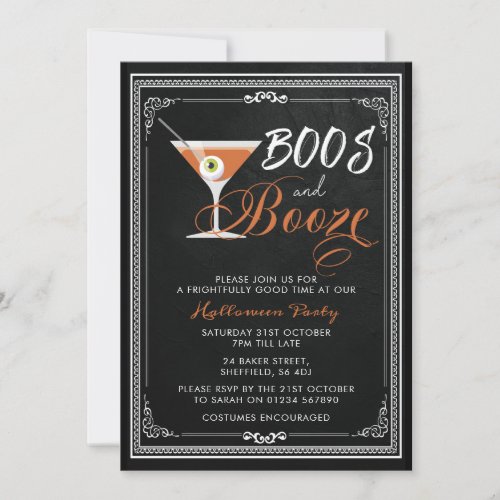 A Vintage Victorian Haunted House with full moon creates this scary Halloween Party Ticket on antique paper.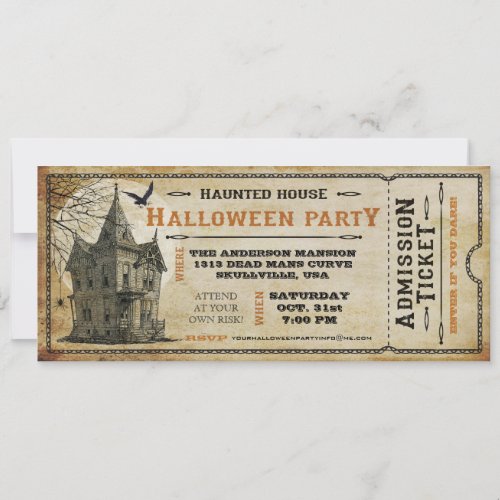 Costumes required – the creepier the better!
Who better to help creep you out than Martha Stewart! Get the step by step directions on how to make this seriously scary mummy – the Martha way.
Never invite a bloody nun …
Make your own – or get a bloody nun costume on line. Either way, this is sure to put the fear of God into your guests.
Creepy but cool.
This costume is sure to be a head turner. All you need is a black wig, red bowtie, white hose, red stilettos and plenty of make up!
Zombie Walker!
He's stalking the land on a never-ending quest for fresh human brains. You can find this costume at Horrordome
Asylum Nurse
This poor nurse has been through the ringer. You can use any nurse costume – then bloody it up for some trauma. Or you can cheat a little and get one already traumatized.
Gore at the door – and all through the house
Any "It" fan will love Pennywise the clown with his single red balloon. This Halloween favorite works for either inside or out!
Someone lost his head! What better way to scare up some excitement than with a frightening skull on the doorstep.
Scary bats and spiderwebs for your porch give your guests a hint of what's to come inside.
A few witches brewing up some delicious potion in their cauldron in front of the eerie fog will really set the tone.
Get your very own skeleton for a pool party this fall. He's super chill floating among the light up pumpkins and fog
Beware!
This bloody mirror scene is fast and easy to replicate. Find an old ornate mirror at a local garage sale, thrift store or order one online. (There may even be one lurking in your attic.) Add some red washable paint for the "beware" and bloody handprints, string spiderwebs around and you're done.
You can also pick up shrunken heads, giant spiders, small skulls, gory eyeballs, and bloody limbs for the display table. Even more fun when displayed in cloches.

The forgotten doll
This scary looking doll randomly starts speaking when she senses motion. Place her anywhere in your party scene to add a little more creepiness. One hostess called this her Halloween "elf on the shelf". Or … you could call her the "doll in the hall".
Floating crystal ball candlesticks
Spooky Crystal Ball candlesticks appear to have Halloween favorites – a skull, spider, black crow, eyeball and bat floating in midair. Get your hands on some candlesticks, download the free printables from the Graphics Fairy and head on over to flamingotoes for the step by step tutorial.
Need a hand? This skeleton hand holder bowl is perfect for chips and dip.
Vintage photos add a haunting appeal
Have old family photos lurking in your attic? Put them into inexpensive frames and add creepy red lights for the eyes.
Spirits are never invited – but always welcome.
Spirits are standing by! Easily add a ghost or two to your party. Just get some old white sheets (cheesecloth also works well!), cut out some gory eyes and you're good to go. Prop him up in the corner or hang from the ceiling.
Collect some old apothecary jars (or get some delivered) and add these frightening labels (they're free!) to haunt your party guests.
Scare them everywhere!
Give your guests a scare in every room – even the bathroom. This gruesome bloody handprints shower curtain will make them think twice when they open the door.
Chilling snacks, drinks and desserts to die for
Halloween theme cheese boards are perfect for a crowd. This cheese board kicks it up a notch with the Halloween themed decor – skeleton hands, mini pumpkins, black and blue fruit and so much more. Get the how to here.
Halloween party snacks to impress the guests
Your friends and family will love these easy appetizing pumpkin deviled eggs – Get the recipe here
Mummified garlic bread – just a few ingredients (garlic bread, string cheese and black olives) come together for a perfectly ghoulish snack. Get the recipe here!
Cheddar witch fingers – cheesy, crispy, spicy and just a little scary. Perfect for your Halloween snack table.
Hands down party favorite! Cut crescent roll dough into thin strips and wrap around hot dogs cut in half for bite size fun. Bake (according to package directions) and add small dots of mustard for the mummy eyes.
Jalapeno mummy poppers – those eyes will get you every time! Get the recipe here
Devilish drinks to die for
Many of these Halloween themed drinks feature dry ice to showcase a bewitching spell. If you've not used dry ice before, beware!
These witches heart dry ice drinks from Flavor the Blender look hauntingly delicious.
These bloody eyeball shots should be gory enough for your drink table. You'll need round ice cube trays to pull these off … watch the quick video from the drinklab.org for the "how to"
Skull decorations are scattered among the bloody shot glasses. For this bloody sangria drink, head over to Cravings of a Lunatic for the recipe.
Alien Olives – Who wouldn't love to see these creepy faces in their drinks? All you need is an black food coloring marker and a jar of olives. Find the "how to" here.
Shots take on a new life …
wiith these Bloody Mary jello shots.. Fill with syringes, cool on ice with skull decor all around. You could also use skull ice cubes or gravestone cubes for a more menacing display.
Hideous lychee eyeball
Simple to make but haunting to look at – this garnish would work with any Halloween drinks. Find the 3 ingredient recipe at thespruceeats.com. If you can't find lychee at your grocery store (one of the 3 ingredients), you can order them online.
Dry ice adds the drama
Mr Hyde Potent – the "spirited" Halloween drink. Get the recipe here.
Bloody Mary anyone?
Have some fun by pouring bloody mary drinks or other zombie cocktails into reusable blood bags.
Cider meets severed heads
Shrunken heads in spiced cider – head here for the recipe.
Jack Skellington macarons – sweets for the Halloween party
These macarons have a good reason to smile – they look amazing! Check out the step by step recipe from Big Bear's Wife.
Surprise bloody cake – a vampire's dream.
Surprise bloody cake is definitely a show stopper! You'll want to throw a Halloween party just to make this cake. Get the recipe here.
Halloween party spider web cake
Deceptively easy to make – and makes a dramatic statement! Follow the link on the web for the recipe.
Red Vampire Rose Cake
What's not to love about this cake? From the sinister black horns to the spray of gothic roses, this 4-tier Halloween cake is stunning!
Naked cake – with Halloween themed colors
If you're not a fancy cake baker, you can make an easy Halloween themed cake with this chocolate layer cake with creamy orange tinted frosting.
Host a Murder Mystery
Hosting a murder mystery would be perfect for an immersive Halloween experience. The ultimate Halloween themed murder mystery game is available for both in person and virtual. Plus escape room "party in a box" is also available.
More Halloween Ideas!
If you're planning a Halloween Wedding, be sure to check out 13 frightful wedding invitations from pretty wedding paper.
We also have fun ideas for Halloween themed baby showers or birthday parties for little ones!
Here to help.
Halloween will be here before we know it. If you need help with a design, invitation, sign or other special decoration, just let me know!