Oscar, our friendly ghost, is going to help us get this Halloween birthday party started (in between his chomping on candy corn). You can start with decals featuring this darling ghost to decorate around the house. You'll also want to stock up on Halloween themed party ideas such as:
Oscar also has ideas for Halloween themed sweets, games, invitations, costumes, masks for the kiddos and more!
Easy Decoration Ideas for your Halloween birthday party.

Trick or treat Welcome Sign – for those who are having outside birthday parties, plant this sign in the front yard for the party goers. You might get a few honks and waves along the way. For Halloween night, scroll down ⬇ to the bottom for our FREE printable "Trick or Treat Lawn sign" for your yard, door or window!
Glow in the dark light sticks!

These are great for outdoor parties too! Glow sticks are sure to bring de"light" to your party guests – and when you order in bulk, each kiddo can take home a handful to keep the party going when they leave.
Easy decorations featuring black cats. These not-too-scary black cats have light up eyes – get the cat connection going with this cute string light set
Halloween themed Birthday Banner
A Halloween inspired Happy Birthday banner featuring pumpkins, ghosts and green, purple and orange lettering.
This light up tree with pumpkins is another fun decoration to set the tone. The little pumpkins glow along the branches bringing a nice atmosphere.
Super cute ghost straws
So cute and so easy! Get a few mini pumpkins, some candy, orange straws and add the cute ghost cutouts.
What little girl or boy could resist this pumpkin teddy bear with his Halloween Costume? Great decoration for the party – plus the birthday kiddo will enjoy him long after the party is over.
Pumpkin felt stitchies! For those of you who love embroidery, here's the custest pumpkin pattern ever! These guys just make you want to smile – love the pink cheeks and the curly cue greenery.


Not too scary Halloween themed food ideas!
How sweet is this? Whip cream and chocolate chips top the pancake stack for a seriously cute "ghost pancake" breakfast. For the recipe, head on over to takingcareofmonkeybusiness
Cute pumpkin emoji cupcakes – watch the video for complete how to instructions
Clementine pumpkins make for a fun and healthy treat – with very little effort! All you need is some clementine oranges and a sharpie. You can even have the kids decorate their own for the birthday pumpkin patch.
Spider crackers
These not too scary spider crackers will bring a smile to the kiddos face. And it's super easy too – get some Ritz crackers, small pieces of cheese and lots of plastic spiders.
A fun variation on the spider crackers – all you need are ritz crackers, pretzel sticks, a dollop of cream cheese and raisins (or get eyeballs already made). Head on over to lajollamom.com for the "how to" put these together.

Pumpkin pops!
Super easy marshmallow pumpkin pops are sure to be a hit. You can find complete step by step instructions at yellowblissroad.com
So spooky ghost cupcakes! Not only are these adorable, they are gluten free 🙂 For the recipe and "how to" check out sarahbakesgfree
Another variation on the ghost cupcakes – this one with rolled fondant for the ghost shapes. BHG has the recipe PLUS a "how to" video.
Ghost cookies 🙂
Who wouldn't love one of these adorable ghost cookies? You can make your own with cute ghost cookie cutters and black icing. (You'll need a steady hand for the eyes and mouth.)
It really doesn't get any easier than this – cheese sticks and a sharpie – and you're good to go. Super cute – and a healthy Halloween snack.
Mummy dogs! These are so easy to make – and they kiddos will devour them up in no time! They are that good – and so cute. Pillsbury has the 'how to" directions
Sweet! Candy corn inspired cupcakes with layers of white, yellow and orange frosting. I love the polka dot cupcake liners too – adds the perfect touch!
Who knew strawberries could be scary? Here's a spooky twist for the straweberry lover. For "how to" head over to pizzazzerie com
Apple mummies
So fun – here's a cute play on mummies with apples with gauze strips and edible googly eyes. Super easy and so cute for a display. What's more, it's a healthy treat for the kiddos (once they remove the gauze of course!)
Orange fizzy shakes are sure to be a hit – you can decorate your plastic cups with these pumpkin "cling ons" The kids would get a kick out of decorating the cups too! To find the orange shake recipe, check out belleofthekitchen's jack o-lantern floats

Halloween Themed Birthday Invitations for your little one!
Cute black cat Halloween themed birthday invitation with orange and white stripes in the background.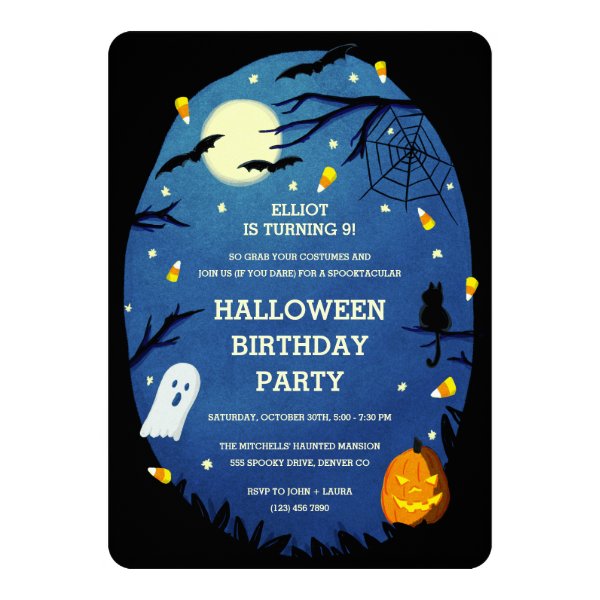 Cute Kids Halloween Birthday Party Invitations
Costume party invitations
Isn't this the cutest little candy corn ever? From the clever designer RedwoodAndVine at Zazzle, this has to be one of the sweetest Halloween birthday invitations!
You can even get creative with the return envelope – here's a spooky spider web return address label to get the party started.


FUN AND GAMES for your Halloween Themed Birthday Party
Free Halloween Bingo cards is sure to be a fun game at your little one's party. This cute bingo card has ghosts, candy corn, skeletons, vampires, spiders, black cats, bats and stars.
Ghost pinanta? Why not!
A Ghost pinata is sure to be a hit. The little ones will have fun busting open the "not too scary" ghost filled with surprises.
Find the ghost game
Find the ghosts! This fun toddler game is just like an Easter egg hunt but with ghosts. You can create your own "coffee filter" ghosts (get the step by step directions here) and then hide them in the backyard or the party room. Each kiddo gets one pumpkin pail – and let the ghost hunt begin!
Monster bowling
For the DIYers – here's a fun game for the kiddos – monster bowling. Just paint some old cans, get a tennis ball or softball, and let the bowling begin.
Make your own slime – in no time!
Another project for the DIYers – you can make your own slime and let the kids dig in and get slimey! Don't worry if they accidentally taste it though – this slime recipe is edible (but not too tasty).
Pin the spider on the web!
An easy and fun game with the goal to put the spider in the center of the web. Get the free printable from elleclaireinspired.com

So these party favors are a little different! Hand sanitizers for give aways – you can put them in the basket when the kids come in the door! Not only are they awesome party favors for the kids, the moms and dads will appreciate them too!
Cute Halloween Outfits and Costumes for your Birthday kiddo
Adorable little ghost dress would be perfect for the birthday girl 🙂 The dress features happy smiling ghosts with orange bows and BOO! in a playful white font against a jet black background. What's more, there's orange piping on the sleeves and collar PLUS little pockets for the birthday girl to stash her goodies!
Too cute to spook! Adorable outfit for your little one with a super cute ghost and fun typography.
Adorable pumpkin onesie shirt for the birthday boy or girl. Your little one will light up the room with this cute orange and black jack-o-lantern onesie. Comes in a variety of sizes.

Dog Halloween shirts that glow in the dark!
Even your dog can get in on the party – with this super fun glow in the dark dog shirt 🙂 Charlie will never know how cool he looks – but your kids will! Wait till it's dark to get Charlie dressed.

Boo buttons!
Your party goers will love these little "BOO" Buttons (for the older kiddos). Cute button party favors they can take home with them, decorate their jacket or backpack.
Don't forget the face masks! You can get really cute masks for the birthday girl or boy or just get a box of disposable Halloween masks for all the kiddos to wear.
Peek a boo plates

Are these the cutest little peek a boo plates? Perfect for your baby's first birthday – and toddler's too! What's more, you can find matching napkins, signs and invitations in the "peek a boo" collection.
Spooky Halloween Stickers can dress up your treat bags 🙂


FREE "Happy Halloween" Trick or Treat Poster!
Download our free Happy Halloween trick or treat poster! You can place it in the yard or add to your window or front door – let's get this "social distance" Halloween party started!
Sign up for our newsletter & get the Trick or Treat Sign Freebie!

We hope you enjoy these Halloween inspired ideas! If you're having a baby shower, be sure to check out our Halloween inspired baby shower ideas. Of course, if you need a custom design, just drop us a line below or visit us at colleenmichele.com
Follow us on pinterest!
Reader Interactions