This post may contain affiliate links, which means that if you click on a product link, I may receive compensation. This compensation comes at no additional cost to you, and I only link to products I absolutely love (and think you would, too) and companies I trust!
---
Boho decor is for anyone who loves a creative, unconventional and relaxed style. Think earthy colors, pampas grass, burlap, lace, muted rainbows, rafia baskets, plush pillows, maxi dresses, and dream catchers. It's easy to style a boho theme by mixing and matching textures, earthy colors, and flowers . Whether you're planning a shower for a baby girl, boy – or gender neutral, you'll love these trending boho ideas.
---
Boho Baby Shower Ideas
Boho Baby Shower invitations for girls, boys or gender neutral
Baby Shower Cakes – Boho style
A sweet fabric banner with twine and wooden sticks brings out the natural feeling with this baby shower cake. The flowers looks so sweet against the white icing. What's more, the wooden cake stand makes the look complete. If you have a little spare fabric, twine and a couple of twigs, you too can easily create this rustic cake banner.
This adorable cake topper makes it way too easy to way add a certain style to your naked cake.
The triangular designs with sprinkles of gold, mint green, lavender and pink accent this baby shower cake. So pretty!
Simple and easy – boho rainbow cake topper in earthtone muted colors.
Baby Shower Invitations featuring the boho theme
Going paperless? Easy, breezy digital invitation you can text, email or add to your social media group. Fun pastel rainbow color lends to an easy boho themed invitation.
Whether you're welcoming a "Hannah" or "Huck", you can't go wrong with this earth toned boho theme baby shower invitation.
Feathers and flowers – lovely, elegant design for gender neutral showers.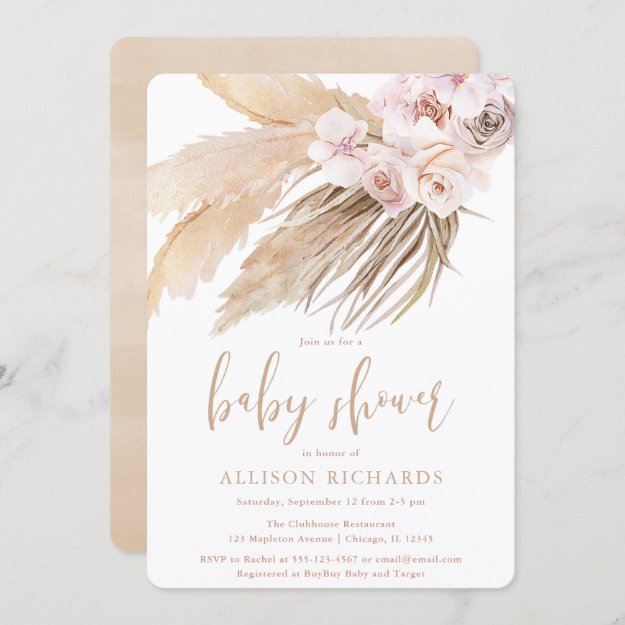 Watercolor rainbow front with fun pattern on the back. Super cute baby shower invitation.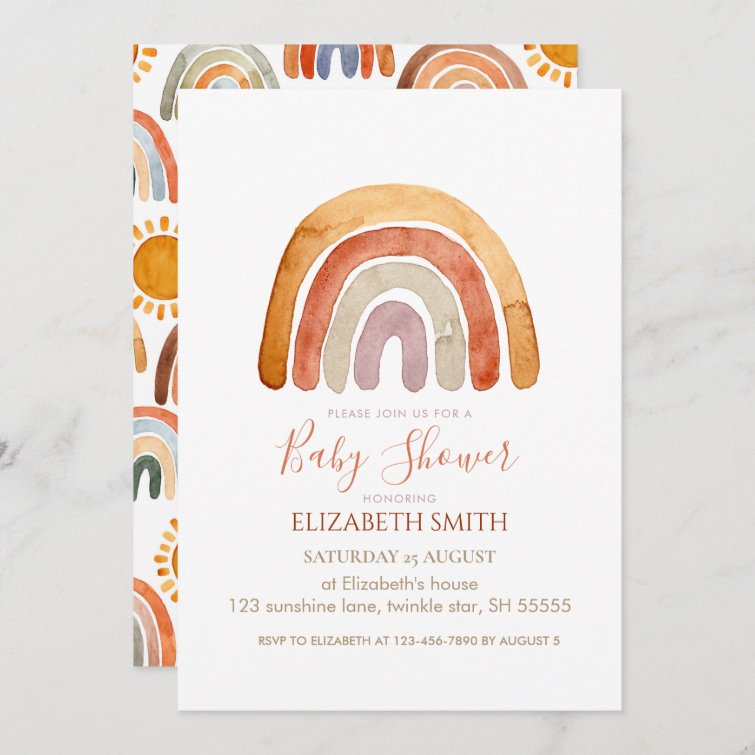 A creative alternative to rainbows – arrows and hearts shower this cute baby shower invitation.


DIY Boho Ideas
Boho Decoration Ideas – Flowers, Rainbows, Balloons and more!
Set the tone with this super boho rainbow welcome baby shower poster – customizeable with mom to be's name. Sweet!

Poppies pop with color
A creative "Welcome Sign" for your baby shower with colorful poppy flowers in cream, soft pink, gold and sky blue.
Here's a clever welcome poster that gets the guests involved too! Just have each one press their thumb print on the strings of the dream catcher welcome poster. Great keepsake!
Burlap Banners – So easy!
For the DIYers, you can get some burlap, stencils and paint to create your own! Or take the easy way and get this pre-made "Oh Baby" burlap banner with greenery.
Boho Baby Shower Guest Books
Make lasting memories for mom and baby with a boho themed baby shower guest book. "You are my sunshine" and "Welcome Baby" are both available in both hard cover and soft cover. Plenty of room for guests to write their names, wishes PLUS easy gift tracker section for the hostess.
Boho Chic Balloons with pastel rainbow arches
Wow! How wonderful is this display? Pastel colored balloons draping over an earth tone colored rainbow display. You might want to invest in a balloon pump to make the job a little easier.
Boho garland – an easy decoration you can make or your own or buy one pre-made. Here's a great "how to" video from yummy paper. Instant decor for your boho baby shower.
Pampas grass is the perfect touch to decorate the tables. Use them as centerpieces or display on the gift and cake tables. It's fun to get different colors too – to mix and match with your theme.
Wonderful Wicker (and a nice investment for the new mom)
If you don't have a wicker chair, you may want to borrow from a friend or pick one up for the shower. You and/or mom to be will certainly enjoy the chair for years after the shower. They're easy to decorate too – with a little greenery and some fresh (or paper) flowers, you've made an instant showpiece for the shower. Don't forget a nice cushy pillow. These macrame pillow covers – made from cotton – will bring out the boho :).

Paper flowers add to the ambiance
Check out these gorgeous paper flowers from etsy. Love the colors and the simplicity of the design. Of course, if you're the diy type, you can get your own colored paper and go for it. Here's a great tutorial on creating beautiful paper flowers from Faithful designs by Christie.
Macrame table runner
The macrame craft has been around for centuries. While it has faded in popularity after the 70's boon, it is making a bit of resurgence lately – and is perfect for the Bohemian theme.. You can easily pick up some tips on how to macrame on line or from a book – or you save some time and just pick up the finished item on line.

Boho Rainbows and Balloons
This adorable display is sure to bring out the wow factor. Soft muted color balloons of dusty pink, cream and white are perfect for the boho chic look. This also includes the "rainbow arches" (they're balloons too!) with complete "how to".
Floral wall hanging
How fun – and inexpensive – is this? find a large branch and add single flower stems (suspended at varying heights with twine) and you have a dramatic backdrop!
Delightfully decorated diaper cake
You can feel the love with this delightful diaper cake with greenery, twine and a sweet "You are Loved" sign topper. You can get lambs ear from a floral shop or order on line. The succulents also add a nice variety to the display. Get a little twine and some pretty ribbon, a wooden sign topper and start building your own! (You can even order your own starter diaper cake – just add your own decor!)

Fairy lights and balloons easily brighten up this display.
Easy – and inexpensive – way to add decor that "wows" to your shower. These baby shower boxes are easy to assemble – and looks so sweet with the twinkling fairy lights.
Easy indoor – or outdoor – boho chic decor
Dream catchers make a lovely display – and simple to hang up for outdoor showers. You can get several to add a bit of variety to the shower. These would also make lovely additions to the nursery after the shower is over.


Stylish snacks with a boho flair
How about this gorgeous charcuterie tray – complete with grapes, cheese, nuts, cheese, meats and crackers. An attention getting display your guests will love!
You know hershey's kisses are going to show up at a boho baby shower! These super fun stickers add to the theme.


Baby shower cookies
What a great variety … with arrows, suncatchers, onesies, feathers and more. From baked sugar bakery.
Twins!
"Oh baby" cookies and "Twins" – Love these baby shower cookies from the cookihaus in Miami!
Boho Chic Macarons – with sweet pink flowers for a little girl on the way.
Simple and sweet sugar cookies with a colorful rainbow and tiny pink heart. Easy to customize with mom and dad's name (or baby's name) on the cookies!
So Chic Cupcakes
Ombre cupcakes – the earthy color frostings range from cream to rose. What a beautiful display for your dessert table.

Fruit Fusion For Fun!
Once you find the perfect container, you can't miss with a flavor infused drink for the shower. Whether you're adding strawberries, lemons, mint, or cucumbers, your guests are sure to love the flavors – and colors ! Here's a recipe for a strawberry mint mojito from the entertaining diva (and a virgin version too) If you don't want to follow a recipe, flavors can be infused with whatever fruits and herbs you have available – let your creativity go!
Here's a great selection of baby shower games featuring
Baby Word Scramble
Baby Shower Bingo
What's in your purse
Baby Name Race
The Price is Right
Mommy or Daddy
Baby Shower Game Alternative
Since this shower these is a little off beat, a fun different idea is to share a story, drawing, wish or even write a poem for the baby (and parents) as a nice keepsake. We found the perfect inexpensive book to commemorate the occasion with plenty of room for both guests and ideas. The inside is blank so the guests can let their imagination go. Have colorful markers by the book so party goers (including the kids!) can get creative. There's also an inexpensive paperback baby shower guest book available – it has the same cute design just without the spiral 🙂


Boho Baby Shower gifts – for mom, dad and baby to love!
How adorable is this? This sweet personalized baby blanket for the new little boho baby. It's perfect once the name has been chosen – mom and dad are sure to save this as a keepsake for years to come.
This is an adorable set from "binks n tinks" featuring a wooden rattle and colorful pacifier clip.
Creative meets practical. A fun abacus for baby to keep busy – and a learning toy for later.
A nesting rainbow puzzle will delight the new baby for years to come. You can get one on line – or for the DIYers – here's a great tutorial on creating your own. (Prior woodworking skills recommended)
Here comes the sun! This boho inspired body suit works well for boys or girls.
Look at this adorable mobile! With puffy blue clouds, beads, feathers, rainbows and stars, it's the perfect thoughtful gift for mom and baby 🙂
The first twelve months
Milestone signs are a great gift for the parents to be. It's so fun to watch their baby son or daughter grow through the first year – and monthly photos help keep the memories for years to come.. These milestone month cards can be styled any way the parents like. Customization is also available 🙂
Milestone blankets are also great gifts – mom and dad will love looking at the photos on baby's first birthday!
Gender neutral baby moccasins
Soft white fabric with a playful pattern of arrows make these a fun gift for a baby boy or girl!
Boho Baby's Sunglasses
What better way to help protect baby's eyes – and bring on the boho vibe – than with flower shaped sunglasses. (They come in a variety of colors too!)
Best favors for boho baby showers!
So thoughtful – and plant lovers will so appreciate a small succulent as a party favor! The watch me grow tag is the perfect sign to decorate your party favor..
Miniature candles are perfect for a baby shower favor. The personalized stickers make it a sweet memory for the guests.
Free Boho Baby Shower Thank You Gift tags –
Simply sign up for our newsletter and get instant access to the download. You'll get 6 tags per page that you can print, cut and decorate your favors for your boho baby shower. We recommend heavier paper for printing – but they can easily be printed at home!
Let's get decorating!
Put on your favorite indie play list and get the party started. If you need any designs, signs, invitations or guest books, just let me know. I'll be glad to help!
Hosting a boho bridal shower?
We've got the inspo (plus another free printable) to get you started!
Follow us on Pinterest!
Reader Interactions