This post may contain affiliate links, which means that if you click on a product link, I may receive compensation. This compensation comes at no additional cost to you, and I only link to products I absolutely love (and think you would, too) and companies I trust!
---
What's not to love with the boho trend? Easy flowing dresses, cool pampas grass, colorful wildflowers, comfy felt hats, mix and match place settings and so much more!
If you're planning a fuss free boho bridal shower, engagement or bachelorette party, check out the lovely items we've curated for your event.
Welcome Signs with lovely boho flower arrangements
Welcome guests with romantic burgundy and peach watercolor florals decorated with gold accents, perfect for summer or autumn weddings with botanical and boho vibes.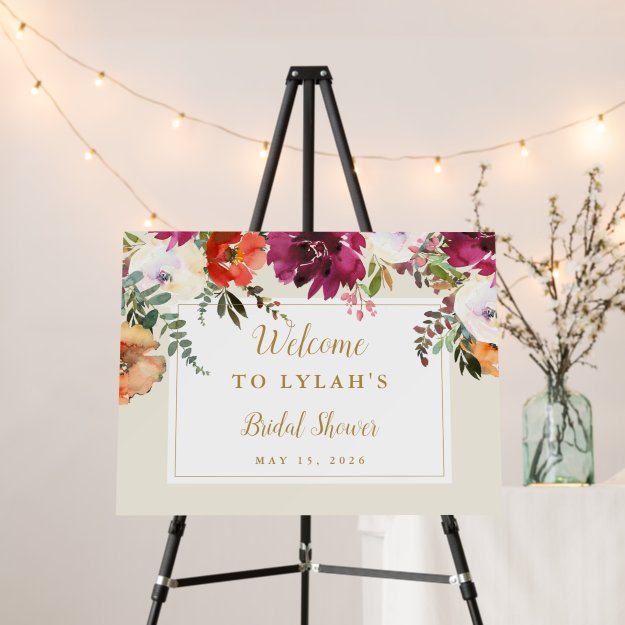 Burnt Orange Bohemian Pampas Grass Bridal Shower Welcome Sign is both lovely and eye-catching.
Lovely typography surrounded by green watercolor succulents make a lovely welcome sign.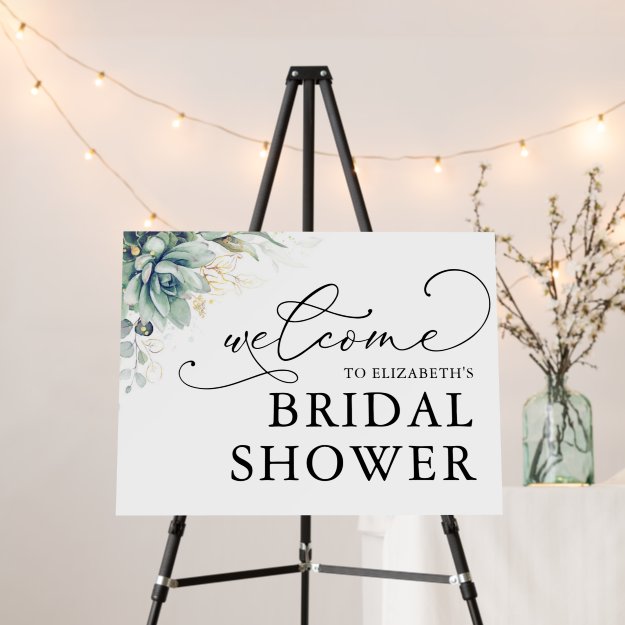 Know any good wood workers? This personalized wooden sign is perfect for boho showers and weddings. (If you'd like to try your hand at wood burning, there are plenty of kits and tutorials to get you started)
---


Boho Bridal Shower Invitations
Fresh, elegant watercolor florals in vibrant navy blue and sweet blush pink are accented with soft antique golds. These boho bridal shower invitations were designed to match our Wild Elegance Navy, Blush & Gold wedding invitation collection.
This terracotta Bridal Shower Invitation features soft earth tone hand-painted watercolor florals and pampas grass to set the tone for your bohemian styled shower! The beautiful photo of the couple was taken by the talented Henry of Henry Tieu Photography.
Modern botanical design features ivory white roses nestled in sage green eucalyptus leaves. Your bridal shower details are placed in the center on a white circle. The dove grey text complements the botanical foliage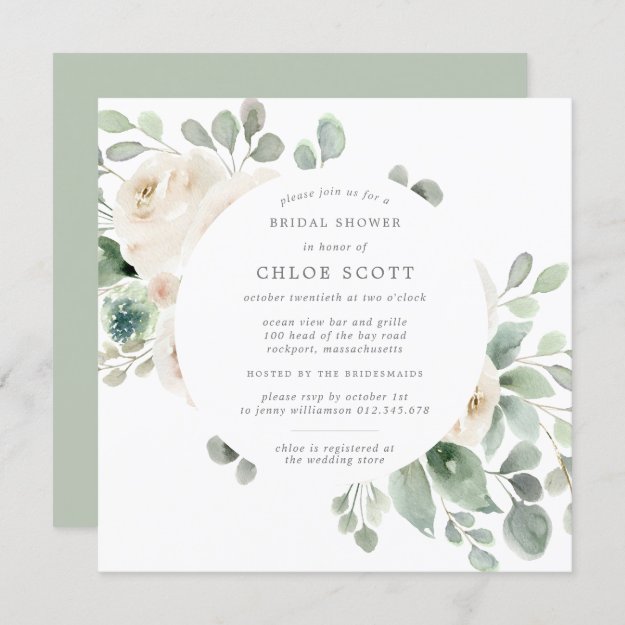 A lovely arrangement of watercolor flowers in shades of pink and white in rustic garden greenery. "Bridal brunch" is written in modern script calligraphy.
Bohemian Floral Feathers Rustic Wedding Invitation
Natural vibrant watercolor wedding invitations feature blue shades feathers and romantic flowers. Perfect wild beauty wedding invite for boho inspired or tribal wedding.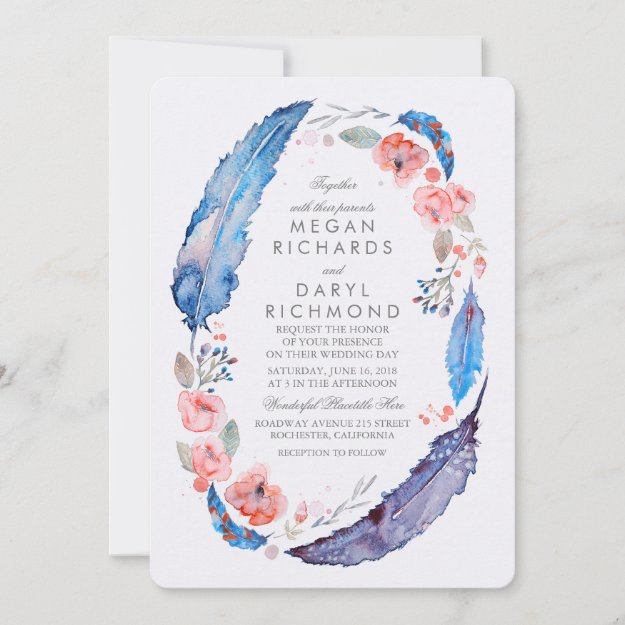 Budget Chic and Modern Pampas Grass and Eucalyptus Floral Bridal Shower invitations for Autumn, Winter, Spring or Summer Wedding Invitations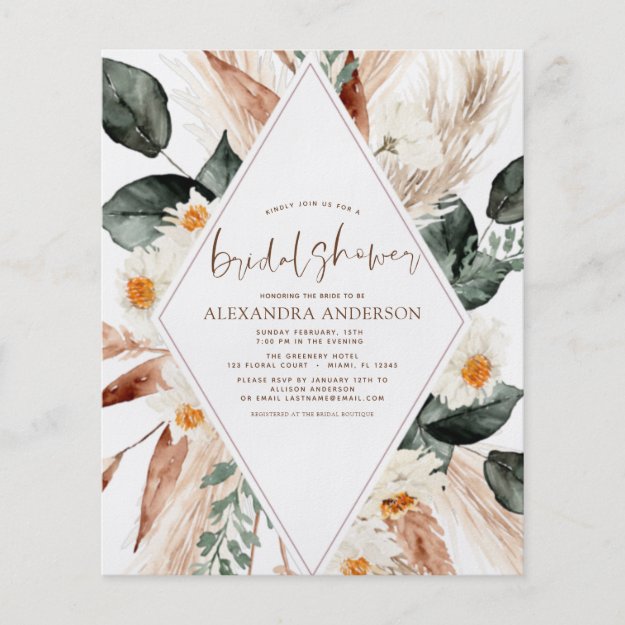 Boho Inspired Decor to create a welcoming vibe
This outdoor boho gives such a welcoming vibe! Pampas grass flower bouquets, soft square pillows, giant umbrella with macramé tassels and monochromatic balloon arch come together to create this lovely space.
Another boho idea for inside – featuring a round wicker chair, feather flower arrangements, macrame wall hanging, off white and gold candles plus a natural color balloon arrangement.
Beautiful flowers and greenery wedded with a soft rose chiffon table runner adds to the ambiance.
This bridal shower table features a burlap table cloth with napkin holders. What's more, the sweet white felt heart adds the finishing touch. If you're using paper plates and napkins, ditch the plastic and opt for an eco-friendly –and compostable – alternative.
Having a luncheon for your shower? Consider a garden setting or bring the garden to your table. Lovely flowers of ranunculus, peonies, and poppies against an off white table runner bring a stunning and vibrant presentation. Serve your favorite punch, sangria or specialty drink in wine glasses for an elegant touch.
Light it up!
If you're lucky enough to have a big tree with low-lying branches in your outdoor venue, you can get really creative with a variety of lanterns, birdcages, and candles. Get some heavy duty twine and hang your decorations at various heights.
Pampas grass anyone? You can find a variety of pampas grass to decorate your bridal shower – from soft pure white to multi color with a twist!
Flowers in your hair!
A crown of flowers adds a special touch for the bride to be. Not only can the bride wear a flower crown, you could even set up a flower station and have guests create their own! There are plenty of kits available and DIY video tutorials to make this a fun activity for the group. To make the pink, orange and green flower crown shown below, follow this wonderful tutorial from Claire Thomas via Martha Stewart.

Boho jewelry adds that extra touch!
This lovely necklace on the left with natural stones not only looks amazing, it's very affordable too! Or try these unique handmade earrings from Cape Diablo – shown here are "intense jasper teardrop" earrings.
Stylish felt bride hats – from Ivory Brides. She'll look stunning in this decorative hat for the shower, engagement party – or the wedding!
Food and Drink – and Frozen Treats – with a boho vibe
Looking for something a little different to serve? Here's a cute display with copper tubing for hanging the pretzel knots with wire baskets for holding a variety of pretzel bites. Add a few different dipping sauces: queso – hot mustard – even caramel – to kick it up a notch.
Naked cakes with seasonal fruits or flowers.
Frost a bit of sugar on fresh fruit and you have a lovely decoration for a "naked cake." You can also embellish the cake with in season flowers to add a special touch. For the how to on the floral fruit naked cake, visit brit.com. You can create (or order) your own wooden cake stand for the display.
Cookies with a free spirit flair
You can get your own cookie cutters, (including the wonky heart shape below) your favorite sugar cookie recipe (Sally's baking addiction has a great one) and decorate your cookies to match your theme. Or you can go the easier route and order them to be shipped to you. Either way, these cookies look amazing!

Bridal Shower Games
Here's a fun bridal shower game to get the party started. Put a bowl of "engagement rings" by the entrance for guests to grab. Whenever a guest hears the word "bride" or "wedding", they get to steal the ring from that guest. Whoever ends up with the most rings wins!
Would she rather watch a scary movie or a chick flick? Rough it on a camping trip or stay at a 5 star resort? Your guests will love this fun bridal shower game to see who really knows the bride to be!
Bride Tribe T-Shirts
Grab these relaxed fit soft cotton bride tribe t shirts for your shower for extra laughs!
Or add some fun to your bachelorette party with these super cute – and comfy! – bridal party t shirts.
For the boho mama, you can't beat this lovely rainbow t shirt – perfect!
Party Favors – Give guests a fun keepsake they'll love
Clever – and practical – macrame bookmarks are a great idea for party favors.
How wonderful are these shower favors? Lovely lavender soaps with personalized wrappers and silky white ribbon. Your guests will love the lavender scent!
Sweet bridal shower favors they are sure to love … scrunchies in yummy colors and feel so buttery soft!
Free Printable BOHO Party Favor Tags
Wild purple, soft pink and eucalyptus make a lovely (and FREE!) thank you tag for your boho shower. Just sign up for our newsletter (below) and you can download this free editable template! (Check out more dramatic purple designs for your shower)
Sign up for our newsletter and get the freebie!
We'll send you this freebie AND instant access to our Freebie Library.
Fun gift ideas for the bride to be!
Tons of 5 star reviews on this cute personalized crochet purse – available in tan or ivory. The perfect boho-chic gift for the bride to be – for her shower or bachelorette party 🙂
Bohemian Princess wrap bracelet
This high energy "Bohemian Princess" wrap bracelet -is simply stunning! Made with Jasper. Seed Beads, Crystal and genuine leather. Jasper has been used for centuries by ancient healers and gurus as a healing and nurturing stone which can provide courage and wisdom. And every bride will need a bit of both as they embark on their new journey.
Thoughtful gift for the couple
They will love this! Personalized leather pocket journal with custom embossing for both of their wedding vows. (If Buttercup and Wesley had a Vow book, this would be it.) The reviewers say it best:

"I am absolutely blown away with how beautiful these vow books are"
"You can tell they are handmade with artistry and intention and we will cherish them forever!"

They'll stand up to the test of time too – made with tough rustic leather. Plenty of 5 star reviews on these keepsakes!
So much to love!
We hope you've found some creative ideas for your boho themed bridal shower / party. If you're looking for a special design, just get in touch with us and share your vision. We love to create unique – and personalized – invitations and stationery.
Having a boho baby shower?
We've uncovered some of the cutest ideas. Check out our boho baby blog for more!
Follow us on pinterest!