This post may contain affiliate links, which means that if you click on a product link, I may receive compensation. This compensation comes at no additional cost to you, and I only link to products I absolutely love (and think you would, too) and companies I trust!
---
Designing a baby shower for twins is easy "peasy" with the "two peas in a pod theme". We've uncovered some of the cutest ideas for this bright and fun theme!
Baby Shower Invitations for Twins
These are quite possibly the cutest peas on earth! This adorable "peas in a pod" baby shower invitation is sure to make your guests smile when the open the envelope. Surrounded by white flowers and greenery, the peas in a pod are happy to announce that twins are on the way!
This design is also available with a pink background for girl twins (with sweet pink hairbows) and a blue background for boys (with baby blue bow ties). You can add your own details and view before you buy with a free demo from Corjl.
Easy to edit with Corjl!
These invitations are available through Etsy on Corjl – where it's super easy to edit and customize – here's a quick video with the how to!
More peas in a pod!
Double the giggles, double the fun, two little babies instead of one! This cute twin baby shower invitation features two adorable peas in a pod with a pink bow and a blue bow tie for girl and boy twins on the way.. The eye catching background includes both white polka dots against a green backround and a sweet green chevron pattern. These are easy to customize with fill in the blanks for the party details.
Expecting twin girls?
Here's a cute baby shower invitation for the little twin girls on the way. Two little baby girls nestled in their peapods with sweet flowers and tendrils against a soft pink polka dot pattern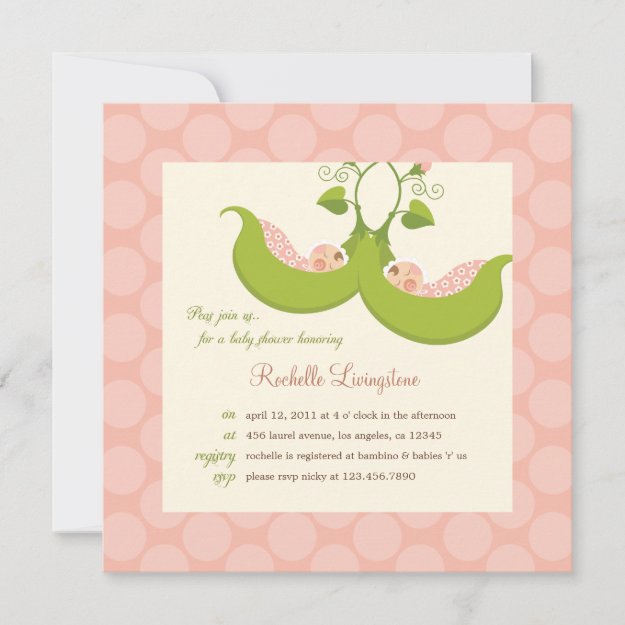 This invitation features two cute babies sleeping in a pea pod. Beneath the babies are yellow daisies. The color palette is a nice gender neutral green and yellow.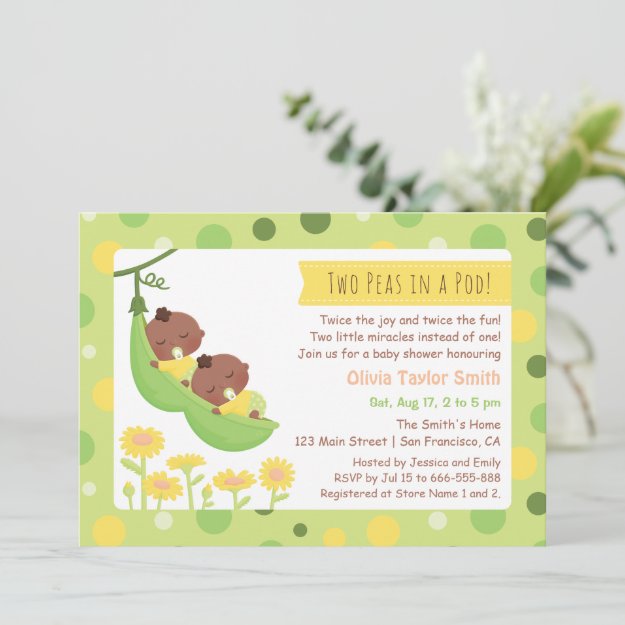 Two sweet peas are on the way – Let's celebrate with a special way! Super adorable sweet peas are smiling happily in their pea pod. Blue background makes this invitation great for twin boys. Easy to customize too.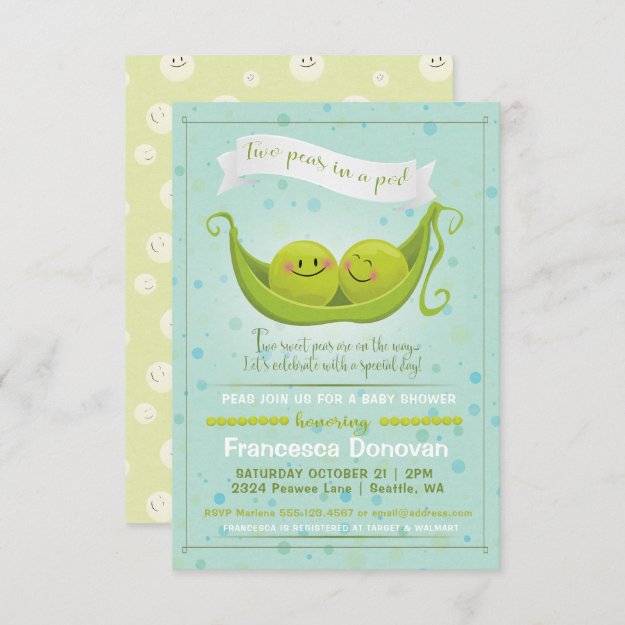 Beautiful pink pea blossoms
Beautiful pink pea blossoms and peas in a pod adorn this geometric crystal shape gold frame that contains all the baby shower information in style – set off with a pretty script calligraphy.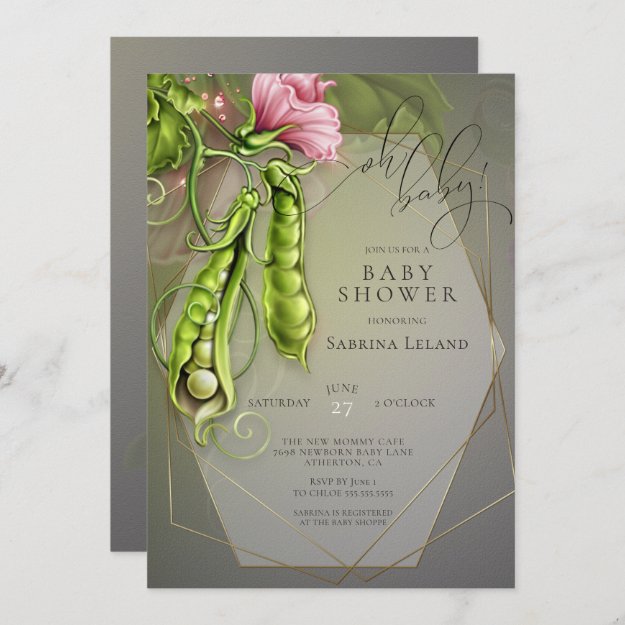 Cakes, cupcakes and cookies
This cake can be the showstopper for your dessert table! With the green fondant shaped pea pods and the cute little ones poking their heads out of the pod, this cake looks simply amazing.
Sweet vanilla cupcakes with little pea pod decor are sure to bring smiles to the party guests.
Cute cupcake wrapper and toppers with the peas in a pod theme dress up your cupcakes in no time!
How cute are these cupcake toppers? The secret is watermelon airhead candy and green sixlet candy (see photo below). Head on over to the Happybrownhouse.com for the "how to".
These cute green and white cake pops fit the theme perfectly. You can decorate them (and your drinks) with these cute green and white pattern straws.

Snacks and Drinks
Delicious pea salad!
Does this look delicious? Pea salad from the Pioneer Woman features peas, cheese, bacon and red onion. This would be a great side salad.
Or for a healthy alternative, try this delicious pasta and pea salad recipe from lucismorsels.com.
Or you can add sauteed sugar snap peas to the table. Here's a quick and easy recipe for this side dish.
Lime Sherbert punch – yum!
Lime Sherbert punch will add to the "green" theme. Even though this recipe says it's a St. Patrick's day recipe, the punch will work perfectly for your green theme baby shower.



Peas in a Pod Decorations
This Peas in a Pod decor kit includes honeycomb decorations, glitter green dots garland, heart shape balloons, baby foil balloons, latex balloons in a variety of colors. Inta-party!
These adorable welcome banner is a great way to announce the twins on the way. Fun burlap material with sweet pea decorations.
Stickers with the "peas in a pod" theme are great for decor for the shower! Add to your envelopes, advice cards, gift bags and more.
Peas in a pod balloon – simple and adorable!
This couldn't be easier or cuter! Decorate two green balloons with smiling faces and nestle in green fabric or napkins. Tie with a little lace and instant peas in a pod!
Bring on the green and white decorations – these paper fans and pom poms will fit the sweet pea theme perfectly to decorate the room.
Creative, colorful and clever! Two Peas in a Pod with a decorative twist.
The "two peas in a pod" banner is so creative and colorful! The table is decorated with sweet little "peas" cookies – all you need is a round shape cookie cutter and plenty of green food coloring for the icing. Green and white napkins, colorful heart balloons and paper fans (pink, blue or green) can really dress up the room!
Super cute peas in a pod guest book will make a lasting keepsake for the parents to be. Available in both hard and soft cover!
Welcome the guests to the party with this adorable baby shower banner. It's a large 3 foot by 5 foot – lots of other sizes are available too!
Peas in a Pod Diaper Cake
A 3-tiered diaper cake can easily be decorated with the baby shower theme. You can get a starter diaper cake and add the cute decorations to bring out the theme. The wall decorations are so simple too! You'll need some large green and pink construction paper. Just cut large circles for the peas (and cheeks), cut out leaf shapes and tape to the wall.
Decorate the table instantly with this green and white polka dotted table cloth.
You can also find adorable paper plates, napkins, paper cups and so much more to dress up your table – and your party – for a "peas in a pod" baby shower theme.
Cute table decor
This sweet set of soft cushy peas can easily dress up the dessert or gift table. Plus, when the shower's over, mom can use these to decorate her nursery. Then when the babies get a little older, they can also use these for play! Works for triplets nurseries too!
Pet peas in a pod
From Tin of Beans, here are two adorable little "pet peas" in a pod for a sweet decoration on the gift table.
More cute table decor … perfect for the gift table. Just get some colorful wash cloths, fashion into pea pods, twirl and stuff the others into the pods The "pods" are tied up with ribbon to add a finishing touch.
From sawdustunlimited, here are two fun wooden eggs dressed up like peas in a pod. If you're the crafty type, you can paint and decorate your own for a fun display. Or – you could even color some hard boiled eggs.
Games
Guess the twins! Fun guessing game featuring celebrity twins.
Free Bingo Game Printable!
Just sign up for our newsletter and you can instantly download this free baby shower bingo printable! You'll receive one pdf with 2-up for printing at home on 8 1/2 x 11. Cute little pea in the middle is the free bingo square. Just fill the other squares with gifts that you think mom will receive. First to get 5 in a row wins!
Gift Ideas for Two Peas in a Pod
ONEsies for the TWOsies! Here you can find the perfect shower gift for baby girl twins (with pink hairbows) , baby boy twins (with cute little bow ties) or one of each (or gender neutral)! The twins names are shown on the front with one twin name on the back.
Photo frames are always a welcome gift – and this one is made just for twins! Mom and dad will love this "peas in a pod" frame.
Crochet gifts for the new babies.
For those who love to crochet, mom and babies will love this "peas in a pod" blanket with hats. You can get the pattern here!
Here's another cute sweet pea crochet gift idea for the nursery – free peas in a pod pattern from stringydingding.
A hand-painted wooden crate with soft cord rope handles and two chalkboard sides for adding personalization. Mom can use it to store baby essentials – and it's large enough to add a second set of clothes and burp cloths for twins! Included in the basket: One buttery-soft organic cotton natural bodysuit and snug leggings, one large washcloth that's super absorbent and a cotton knit cap to keep baby's head warm.


Gift for the mom to be
A wonderful keepsake for the mom to be – this two peas in a pod sterling silver necklace is a great gift idea. This can be customized with 1, 2, 3 or 4 peas – plus you can choose different colors too. The reviews are glowing "These necklaces are AMAZING! I bought one for my sister and one for my bestfriend, they were huge hits and look wonderful."
Baby shower favors
How sweet! All you'll need to create this decoration piece is a cute yellow bucket bucket or pail, crepe paper streamers, foam balls (painted green), and some glue. You'll also need green, yellow and white tissue paper. To make the pod fold a piece of crepe paper streamer in half, glue the foam balls to the center of the fold, and then twist the two ends to tighten the crepe paper to the peas "foam balls" thus making a pea pod.

The vine is very easy – just take the crepe paper and twist. To make the leaves, take a piece of crepe paper and fold in half, round one edge into a point, and then twist the other end to form the leaf. After all the parts are made you can either glue or tape them to your basket. Then fill with party favors, snacks or use for the card or gift table.
Sweet pea baby shower favors
This is about as perfect as can be for a "sweet pea" baby shower theme! These personalized seed packet packets can include sweet pea flowers or you can add your own surprise inside. "Beautiful personalized seed packets used as baby shower party favors. They arrived quickly, were personalized accurately, and were packaged carefully."
You can also pack up some treats in these cute favor bags for sending off with the guests!