This post may contain affiliate links, which means that if you click on a product link, I may receive compensation. This compensation comes at no additional cost to you, and I only link to products I absolutely love (and think you would, too) and companies I trust!
---
Fun ideas for taco 'bout twins baby showers.
If you're hosting a baby shower for twins, you'll love these "taco 'bout twins" ideas. Whether you're celebrating twin baby girls, boys or one of each, you're sure to find some creative ideas including:
Cute taco 'bout twin theme invitation ideas!
Adorable tacos, cacti and avocados are featured on this baby shower invitation.
This twin baby shower invitation can be customized via Corjl. If you're celebrating boy twins, you can add cute bowties and change the background color. With girls, you can add hairbows and change the text colors. If you're having a gender reveal, you can change the headline. You can even customize this for triplet baby shower invitations. Taco 'bout easy!
It's easy to customize – here's a quick video on how to edit the invite with Corjl.
Holy Guacamole! These adorable avocados twin baby shower invitations are sure to bring a smile to your guests.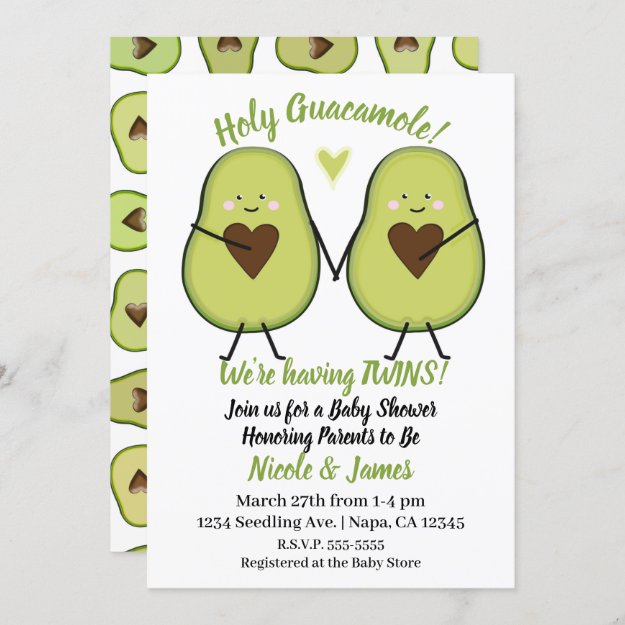 A watercolor effect makes this baby shower invitation inviting with the "Let's talk about twins" headline.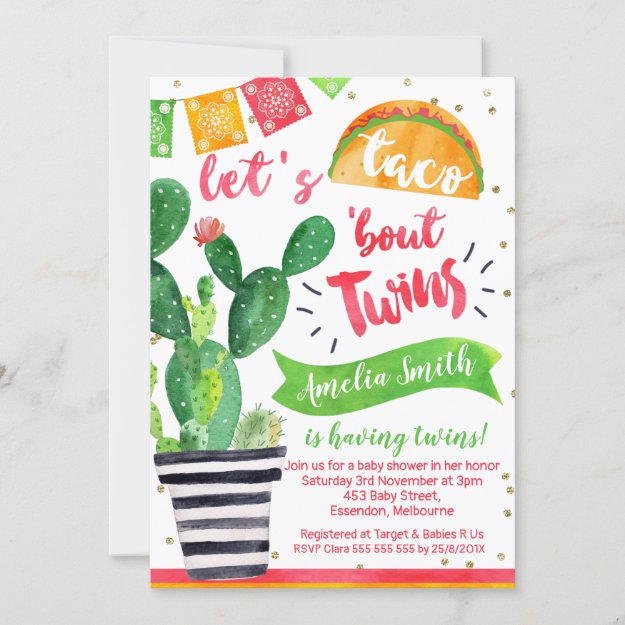 Twin Baby Shower Decorations
Set the tone for your taco bout twins baby shower with this cute banner!
Another festive Welcome Sign with a Mexican theme.
From the bright colorful serape to the lovely fresh cut flowers, this twin theme shower decor is a winner! The "TWINS" wall mount looks amazing. You can find some inexpensive letters, acrylic paint and lots of toothpicks to mimic this design.
Serape? Check! Maracas? Check! Cactus plants? Check! This lovely table sets the tone for a lovely outdoor taco theme baby shower. Fresh flowers in a variety of glass vases add to the festivities. You can get several serape runners and overlay a couple to make this look your own.
Colorful and fun "Taco Bout Twins" sign you can download and frame. This etsy listing also comes with a "taco bar" design in the same theme.
Cactus balloons are a quick, easy – and inexpensive – way to add the southwestern theme to your party. Just get some green balloons, a sharpie, super glue and a terra cotta pot to create these decorations. For more in depth "how to" check out this instructional video.
Here's a quick way to add a variety of festive taco theme decorations to your shower.
This colorful Taco bout twins display will also add the festive look to your party!
You can also add a "taco bout twins" baby shower guest book to the display table. Available both in hard and soft cover, this twin themed guest book is sure to be a keepsake for years to come.
Taco Bout Twins Food Ideas for Your Baby Shower
Eye catching taco bar with pre-made chicken tacos – guests add their favorite toppings. A giant wooden round serving tray is perfect for this display.
This trio of festive bowls is perfect for guacamole, salsa, cheese and other taco toppings!
Single serve taco cups are another cute way to add to the festivities. Get the easy to assemble recipe at Kevin and Amanda.
Super easy to make, these "cactus" pretzel rods are sure to be a hit. Get some thick pretzel rods, dip in melted white chocolate (tinted green of course!) and add white sprinkles before they cool. Display your artistic creations in a fun serving tray and voila!
Taco Party menu
If you're having a sit down lunch or dinner, you can add these taco theme menu cards to the table.
Sweet treats – cookies, cupcakes and candy!
These super fun cookies were made for a birthday – BUT you could take those to your favorite cookie baker / designer for inspiration for your own taco 'bout twins baby shower cookies.
Or you can get your own taco theme cookie cutters and create your own!
How cute are these? Wilton.com has the recipe and "how to" for these Cinco de Mayo cupcakes. No matter what day you have your baby shower, these cupcakes would look amazing!
Taco theme mini candy wrappers are an easy – and inexpensive – way to dress up your dessert table.
Southwest inspired Baby Shower Cakes
This lovely cake featured on karenskottage.com brings out the Southwest theme beautifully. Fresh flowers ALWAYS add the "wow factor" to cakes – and the succulents add an extra touch. (These succulents looks so real – your guests will never know they're not!)
Cake artist, Leslie Vigil, designed this amazing colorful festive cake – as well as the beautiful cupcakes! You can find more of her eye catching designs – and they are ALL amazing – at boredpanda.com.
If you're in Australia, you can order this sweet avocado cake kit – for twins – from cake2therescue. Or – you can order a rectangular cake pan and try your hand at a cute design.
Twin Baby Gift Ideas
Milestone Blanket for twins!
So fun – you can customize the names and the theme with these twin milestone blankets. Here's a sweet design with pink poppies. There are
Twin T shirts
Cute onesies for the babies are always welcome. These avocado theme shirts work perfectly with the taco theme.
Fun "two amigos" shirt for the twin babies.
If you know the names the parents have chosen for the twins, these twin onesies are perfect for identical twins.
Thanks for coming!
Mom and dad will love these taco theme thank you cards.
Sign up for our newsletter and get this FREE Thank You Card!
Sign up for our newsletter and get the freebie!
We'll send you this freebie AND instant access to our
Freebie Library
.
Thanks for reading! Check out our other taco theme baby shower posts!
Follow us on Pinterest!