This post may contain affiliate links, which means that if you click on a product link, I may receive compensation. This compensation comes at no additional cost to you, and I only link to products I absolutely love (and think you would, too) and companies I trust!
---
A unicorn theme birthday party is a delight for any imaginative birthday girl or boy who loves myths, magic and fantasy. If your little one loves unicorns, rainbows and sparkles, you've come to the right place for party inspiration!
Join us as we go to the underground unicorn world and find awesome ideas for your little one's party including:
Unicorn Birthday Party Invitations
We've found a variety of invitations featuring the mythical beautiful unicorn! First up is a birthday invitation featuring a white unicorn against a soft pink background. A pastel colored rainbow with gold sparkles shines in the background.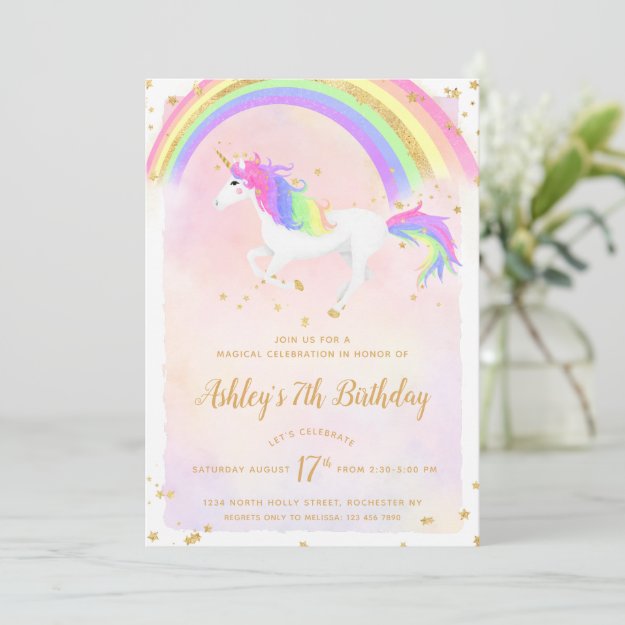 Here's a fun drawing of a unicorn dancing among stars, flowers and multi colored hearts. This unicorn themed invite is great for the little ones.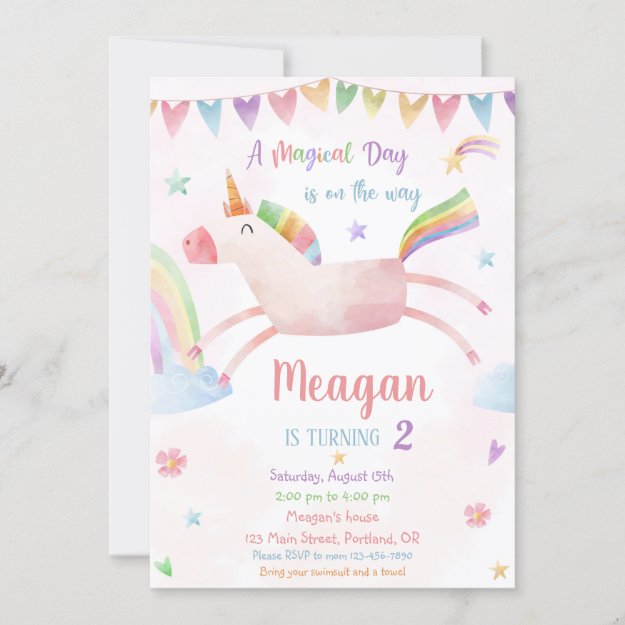 "We're over the rainbow with excitement" is the headline on this unicorn birthday invitation. Bold colors, gold sparkles and stars accent the design.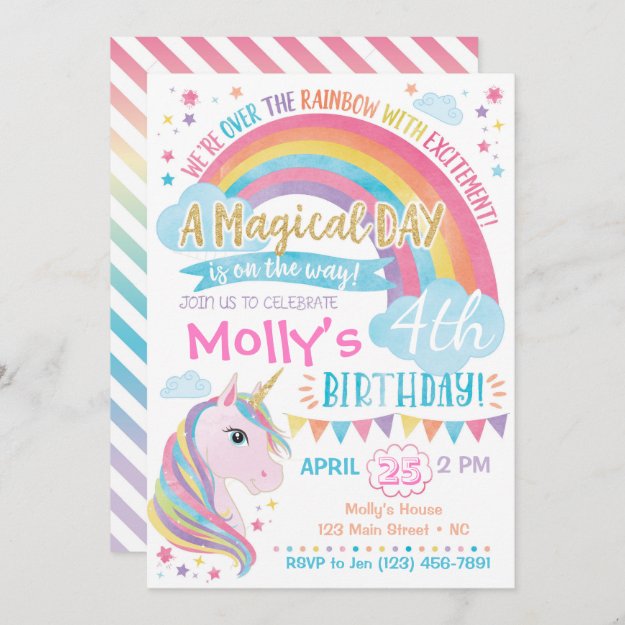 Looking to add a photo of the birthday girl or boy? This unicorn themed photo invite does the trick. Just upload your favorite photo, edit the details and you're ready to go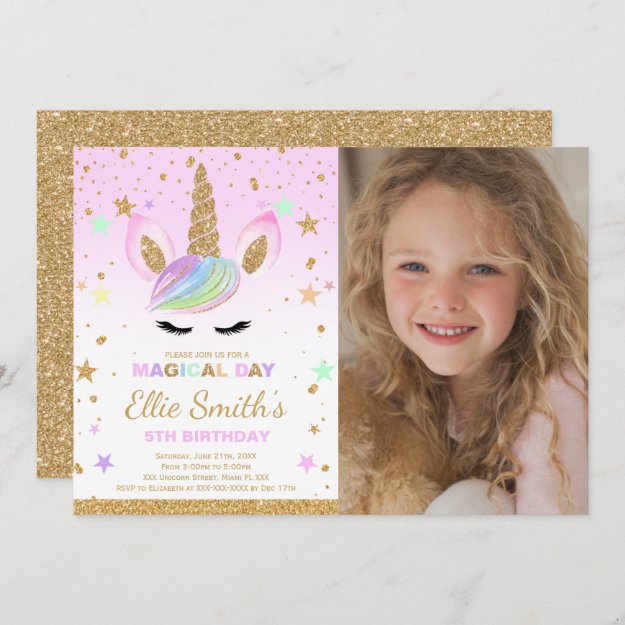 Rainbows, hearts, stars, and a unicorn – what more could your little one want? This unicorn birthday party invitation certainly checks all the boxes!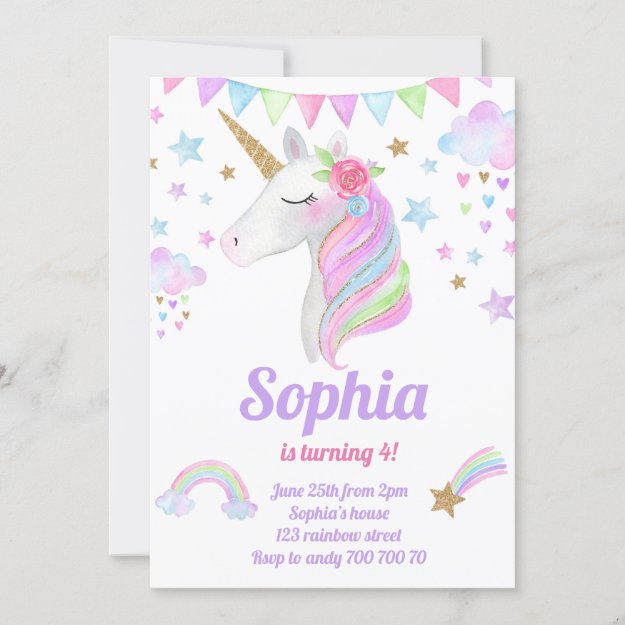 A soft pink pastel unicorn with a sparkly gold horn decorates this birthday party invitation. The birthday girl's name is featured prominently with a lovely script gold font.
Let's talk cake – First up is a white round cake covered in white fondant and decorated nicely with hearts and a unicorn horn. The pastel colored mane requires a steady hand but the result is worth it! Or let the birthday girl or boy create their own masterpiece!
For a little easier cake decorating, you can get this adorable unicorn cake topper. Moms really love this time saver too. Not only is it easy to make, it looks like a professional decorated it.
These little cake pops are having a great time showing off their unicorn vibe. If you're the hands on baker, decorator type, you can have fun decorating these cuties. If you prefer to have them delivered, there are a variety of etsy bakers who can deliver unicorn cake pops in style.
Unicorn Sugar Cookies
Find your favorite sugar cookie recipe and some unicorn cookie cutters and get ready to bake and decorate. Or make it easy on yourself and order them on line from any number of wonderful etsy cookie bakers!

Unicorn macarons
Warning – macarons are not for the faint hearted. If you're willing to give it a go, here's a great recipe for the macarons. Although the recipe says these are "easy unicorn macarons" they are not. Any recipe that has 4 sections and 31 steps should not be called "easy". But if you can pull it off, you'll have these amazing dessert treats.
These colorful cookies feature sweet unicorn faces, rainbow clouds and the birthday kiddo's age. Get your unicorn cookie cutters and create your own masterpieces. Get the kids involved too with decorating – they'll love to show off the cookies when the guests arrive.

Unicorn Food Ideas
These pretzels are perfect "unicorn horns" – and easy to make too. This quick video gives you the 5-ingredient how to – so fun!
Below – more beautiful unicorn pretzel rods. Love the rainbow colors – you can have these treats shipped to your home just in time for the party. Thanks!
Unicorn Milkshakes
This over the top drink is sure to delight. Lots of candie sprinkles, decor and striped straws bring it to life. You can set up a table with all of the extras and have each guest create their own.
This unicorn plate is really over the top. It probably won't make most unicorn parties, but it's fun to see what others can create with a little rice, pepper, cucumbers (and a steady hand!)


Glitter Ice
You can really dress up the drink table with the extra touch of "glitter ice". So easy to make and it brings out the wow factor. Just get some silicon ice cube trays, edible glitter, add to a clear ice bucket and get ready to sparkle! The pastel colors work perfectly with the unicorn theme.
Decorations that add the "wow" factor.

Make it easy on yourself with an out of the box unicorn party!
If you're looking for a time saving solution for your unicorn themed party, look no further than Boxx my party! This small business packs kits full of unicorn themed eco friendly items that can either be reused or recycled. What's more, they're full of surprises you won't find anywhere else! From the reusable unicorn banner to the thoughtful ombre table-scape, this box even includes a take-home whimsical DIY wood painting unicorn craft.
Setting the table … personalized plates are sure to be a hit!
If you're looking to personalize the party, there are a ton of ways to add your own special touch. Here's one way to add a little pizzazz – with personalized party plates.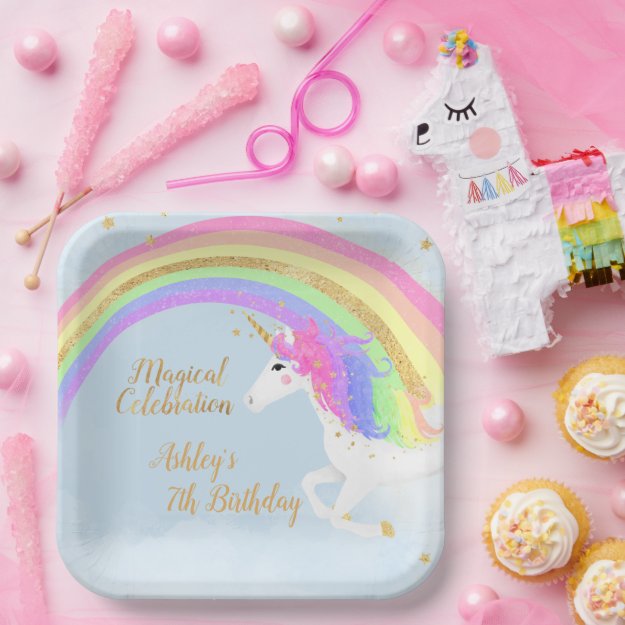 Unicorn theme party backdrops
Gather all the kiddos and family around for a fun photo op! This unicorn backdrop is perfect – and with a variety of sizes available (up to 8′ by 6′) you're sure to find one to fit your room.
You can also personalize unicorn banners with the birthday girl's name and age! There are a variety of designs available.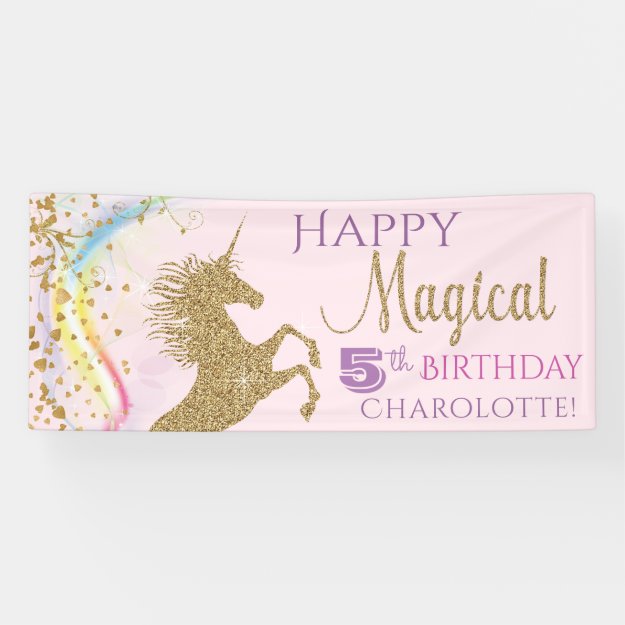 Unicorn party balloons!
Jumbo pastel colored balloons just bursting with fun! The optional fringe unicorn "tails" will really add pizazz to the room.


Unicorn tattoos!
Here's a fun idea for unicorn theme parties! The kiddos will love experimenting with colorful unicorn tattoos. You can get unicorn nail stickers too to add to the fun!

Crowns for a unicorn princess
Could she be any cuter?
Unicorn Party Clothes!
This adorable unicorn shirt can be personalized with the birthday girl's name.
"Unicorns rule, bro" is the message on this fun unicorn shirt – available in a variety of colors


More unicorn party ideas:

This adorable unicorn crown is perfect for the little birthday girl – whether it's her first of fifth birthday! Adorable flowers and unicorn horn make this a perfect crown for photos!

Don't forget the unicorn rocking horse – there are several sizes and colors available – one sure to match your little girl's dreams.

This adorable purple tutu and birthday shirt is perfect for the party. It also includes a matching bow and comes in a variety of sizes. Also available in pink.
You can also dress up any outfit with this cute unicorn pin!

Games, Puzzles, Coloring Books – and More!
Magically fun unicorn party favors
What little girl or boy wouldn't want to take home thier very own unicorn? These adorable unicorn stuffed animals are sure to delight the kids. They can create their own at the party (no sewing required!) and take them home when the party's over.

Unicorn pinata is sure to be a hit!
Parties and pinatas go together like movies and popcorn. You can make your own pinata or make it easy on yourself and have one delivered.

What's your unicorn name?
Here's a fun – and easy – game to play. Everyone gets assigned a "unicorn name" for the party from this "Unicorn poster" – or just have the kiddos make one up with their own creativity. Have fun putting their names on unicorn stickers for them to wear during the party.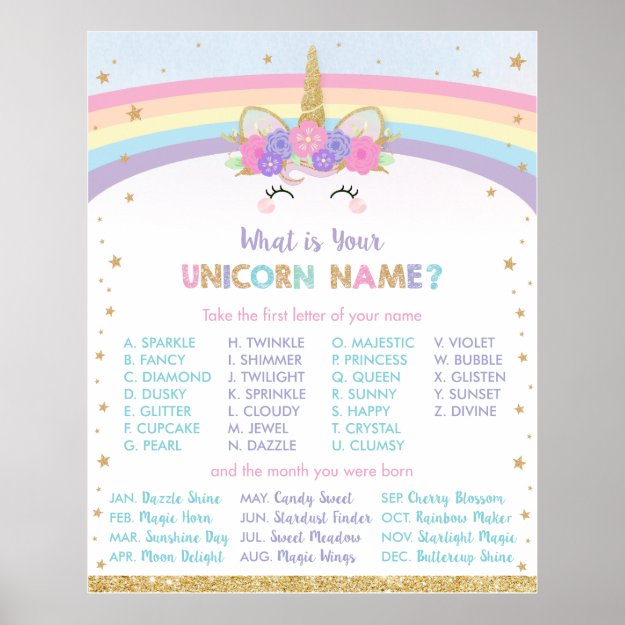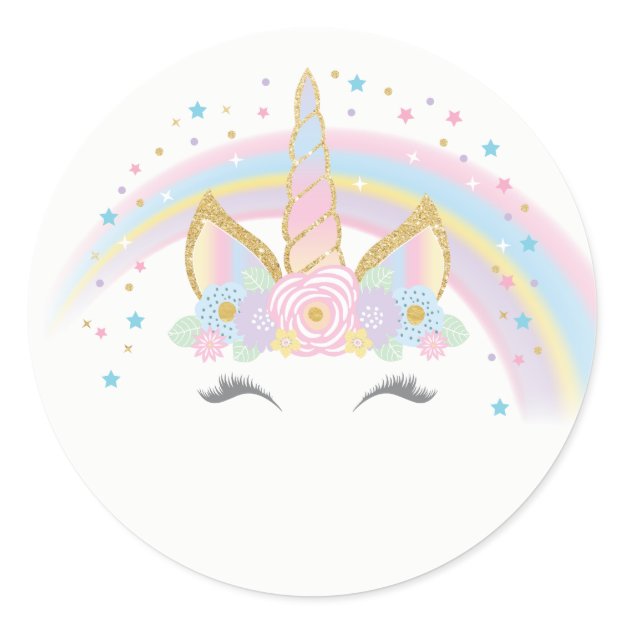 Coloring book fun
Inexpensive but fun – have the kiddos choose their own unicorn to color from a coloring book. You can send them home with their masterpieces for mom and dad's fridge You can also download a free printable for the party from kidsactivitiesblog – have each kid color their own masterpiece..

Unicorn puzzle fun!
Here's a fun idea for the kiddos! Let them put together this giant unicorn puzzle! It measures 2 ft by 3 ft. so should keep them occupied for a while.


Body butter – with pastel colors
For the older girls, you can't beat moisturizing body butter lotion. These cute party favors are handmade in three pretty pastels with just a top sprinkle of glitter with a very secret – and sweet – sugary unicorn blend.


Unicorn bags to go!
When the party's over, send the guests home with their very own unicorn bag full of goodies! Each little guest can bring a little magic (or sweet treats) home.

Birthday Gift Ideas for the Unicorn Lover!
Glam it up with a unicorn purse!
Her eyes are sure to sparkle when she sees this glitzy, glamorous unicorn purse. With sparkling sequins and a cute unicorn face, she'll love playing dress up!

Unicorn lamp for the bedroom
Light up her bedside table with her very own unicorn lamp! Best of all you can personalize it with her own name.

Night Light for little girls or boys
Your little one might just love a unicorn light up night light. (it's too cute!)


Calling all unicorns!
This cute wooden unicorn playset comes with a stable and six different unicorns!



Unicorn dreams

Here's a glittery looking throw pillow! (There is no actual glitter so no worry about sheets getting sparkly.)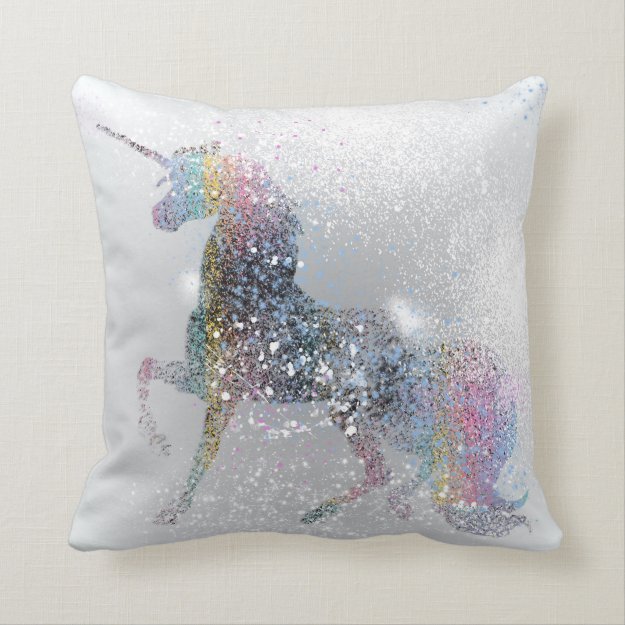 Send her back to school in style with her personalized unicorn folders or a unicorn journal.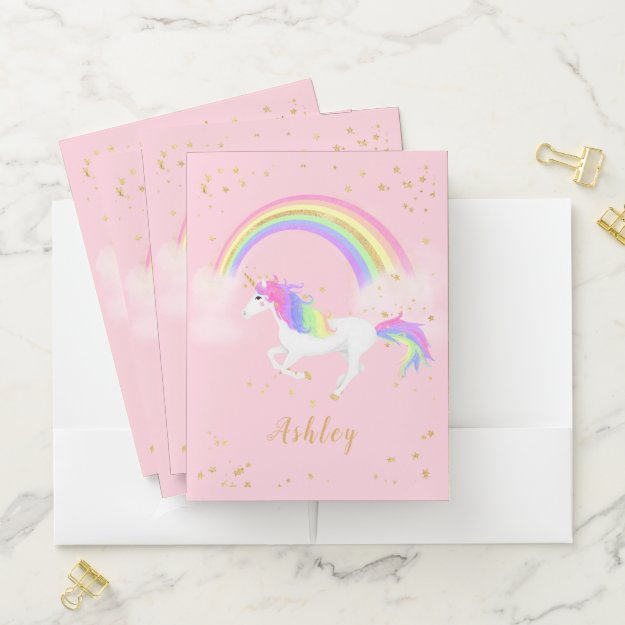 Wrap them up in warmth
Here's a great gift idea to help decorate your kiddos room and keep them warm. A soft cozy unicorn fleece blanket maybe just the ticket.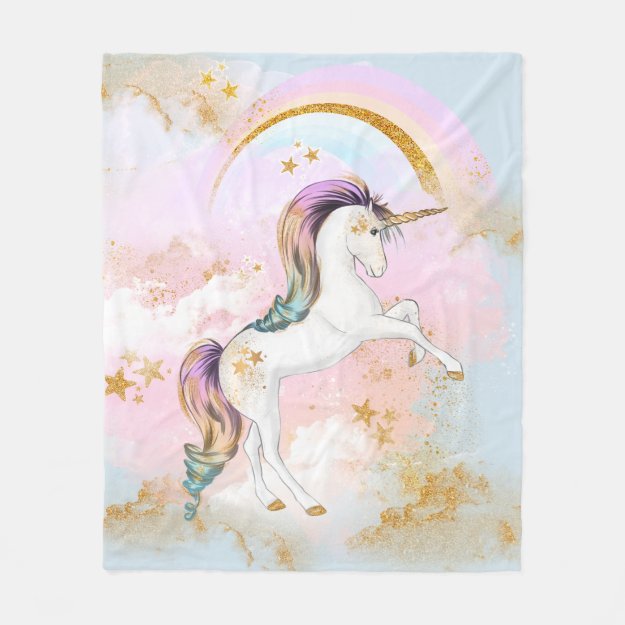 Thanks for coming!
Let your guests know how much you appreciated them! This cute little photo postcard is a great way to spread a little more joy after the party.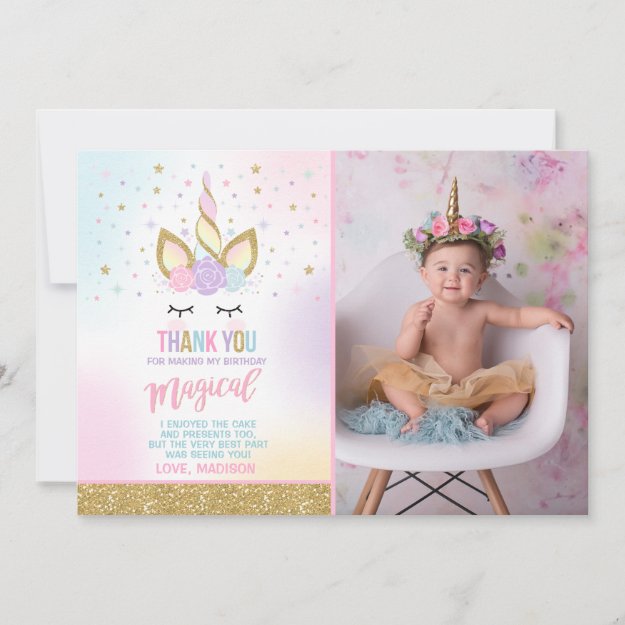 Unicorn themed favor tags for your party favors – easy to add to your boxes, bags or treats.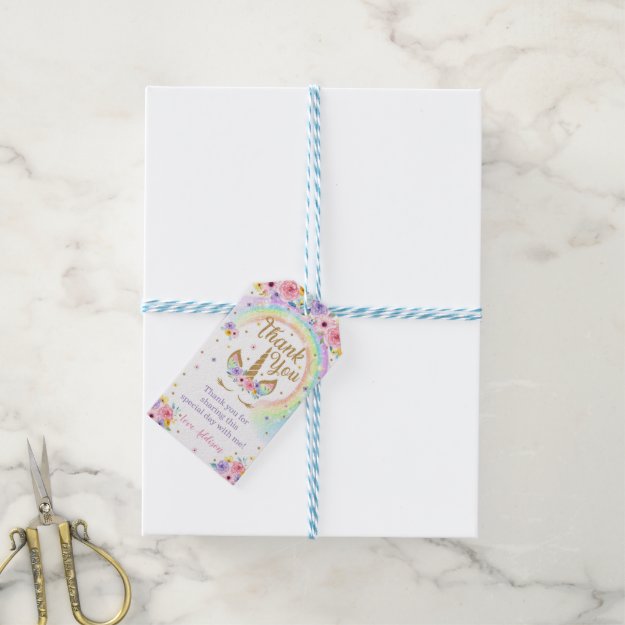 Long live the unicorns!
If you need a special design or idea for your little one's unicorn party, just contact us and we'll get this party started.
Follow us on pinterest for more fun unicorn birthday party ideas!
Reader Interactions