This post may contain affiliate links, which means that if you click on a product link, I may receive compensation. This compensation comes at no additional cost to you, and I only link to products I absolutely love (and think you would, too) and companies I trust!
---
Let's plan a party that's perfectly divine!
Drink ideas for Bubbly Brunches – Mimosas of course
Display for the drink station – flowered and glitter ice
FREE Mimosa checklist and signs 🙂
Brunch and bubbly invitation ideas
Finger sandwiches and other delicacies
Bagel, Waffle and Pancake Bars
Simply Wonderful Desserts – Naked cakes too
Sparkly decorations – party balloons, glitter and glam!
When planning a bridal bubbly brunch, there are so many things to consider! The guest list, the invitations, the venue, the menu, the decorations, and so much more. Once you've decided on the guest list, let's dive in! First things first – let's talk about the bubbly 🙂
To start the bubbly portion, you'll need several bottles of sparkling wine and / or champagne and of course plenty of orange juice. For each bottle, you can expect to get 6 to 8 mimosas. So if your guests will drink an average of 2 to 3 mimosas, you can figure the amount of bottles you'll need. If you're having 20 guests – for example – you'll need at least 5 bottles for 2 mimosas per guest.

For mimosas, most recommend dry sparkling wines such as Cava, Prosecca or Cremant. For the champagne, it makes sense to go with a less expensive variety such as Brut since you are mixing it with juice. Town and Country has a complete listing of the best wines and champagnes for mimosas. A good measure is to use 1/3 juice to 2/3 champagne – but you can easily adjust depending on your taste – and those of your guests.
Here's a colorful mimosa bar display! Add your favorite juices, a bucket full of champagne bottles, fun champagne glasses and straws. You can even add your own gold shimmery hearts to the top of the straws to make the eye catching display.
Even the ice can sparkle!
From style me pretty, here's a gorgeous display for the bottles. A large clear tub filled with sparkling floral ice cubes! For a step by step on how to create these beauties, Martha has it covered.
You can also get square molds and freeze with fresh fruit such as blueberries,, kiwi, lemon or raspberries. Add a "fruit splash" for a little eye candy for your mimosa or drinks!
Glitter ice is so pretty – and pretty simple to do! Just fill ice trays or silicone molds with water and freeze. Add edible glitter to a small bowl. Either roll the ice in the glitter or sprinkle on top of the ice. Pop back in the freezer until you're ready to use.
Free mimosa bar checklist!
For all you planners out there, we made a fun "mimosa bar checklist" that shows the wines, juice, fruit and other ideas for a mimosa bar. Just a few ideas to help you make your bubbly brunch the bubbliest!
We love these scalloped juice tags (from the ruffled blog) to decorate the juice bottles. Carafes are also a lovely display for a variety of juices.

Three FREE Printable Signs for your Bubbly Bar!
Every bubbly bar needs some signs to let the guests know where the fun begins. That's why we created three FREE printables for you to help with the decorations.
Sign up for our newsletter and get the freebie!
We'll send you this freebie AND instant access to our Freebie Library.
While we definitely love the mimosas, you can easily introduce non-alcoholic drinks too – such as this raspberry cooler. Just get some fruit flavored sparkling water and add in some fruit. For even more variety, you can pick up a copy of "Let's get Fizzical" with recipes and photos for over 50 fizzy cocktails including peach bellinis and French 75.
Personalized Champagne Flutes!
The bridal party will love these personalized flutes – raise a glass to the lovely ladies (or handsome guys) who will be by your side on the big day.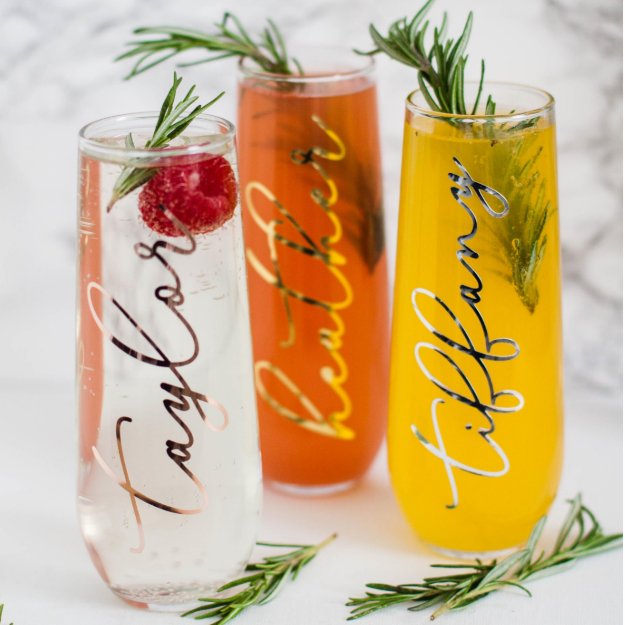 Brunch and Bubbly invitation ideas
You really can't go wrong with a scripty brunch and bubbly with a simple champagne glass with tiny fizzy bubbles. Your guests are sure to love the simple – yet elegant design. Available as an instant download – you can edit yourself. Or I can print and ship to you – including the polka dot envelope liners. Just contact me for details.
You can also customize this invitation with Corjl – You can change the colors, fonts, and so much more!
Here's a quick video on how to edit the invitation with Corjl.
Here's a shimmery gold foil invitation with "bubbly" in gold foil – from Itsy Belle Studio on minted. Note the gold trim on the glass with a sweet strawberry flower perched on the rim.
Brunch au Champagne – fancy bridal shower invitation from minted designer Bonjour Paper in soft pink, gold and black. Cupcake tray, champagne bottles and bubbling champagne flutes – what's not to love!
For a softer feel, here's a watercolor brunch and bubbly invitation with greenery and gold ribbon – from designer LollieJDesign on etsy.
The invitations shown below are all from Zazzle – which has a huge variety of designs which are easy to customize!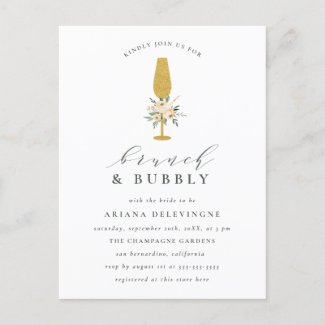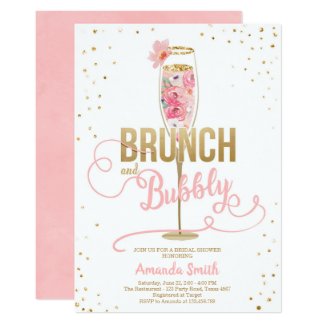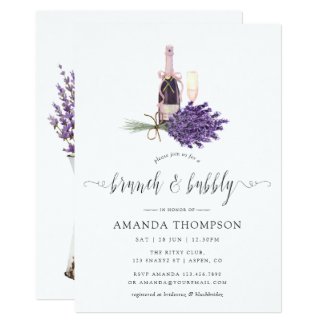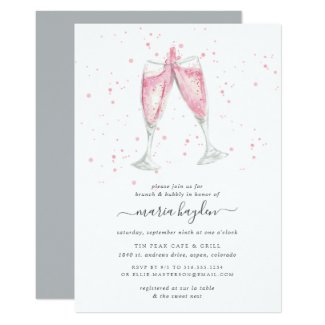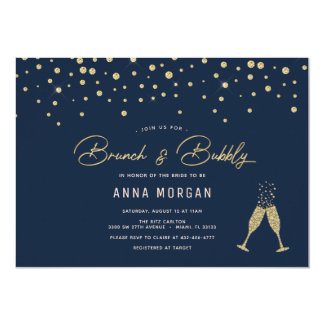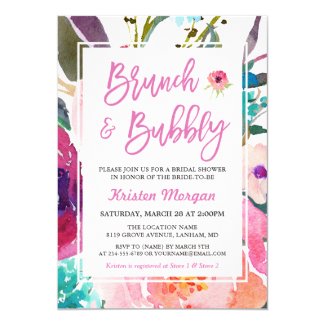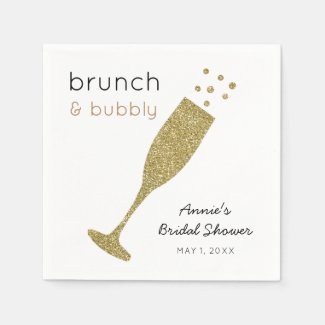 How cute are these cocktail napkins? Although it's faux glitter – these still will make a striking addition to your table 🙂 The ones below are so cute too – with their watercolor background and bubbles all around.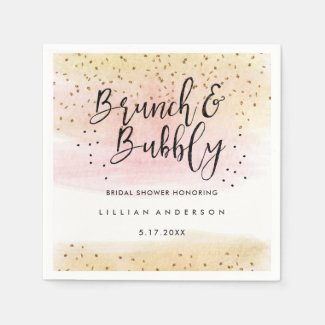 Colorful and Delicious Brunch food ideas
It's time to decide on the menu! With so many options, you can't go wrong. Whether you're having a pancake bar, waffle bar, fruit and cheese tray, finger sandwiches or a bagel bar, your choices are virtually limitless.
Love this spread with sausage links, waffle bites, apple wedges, deviled eggs, fruit, nuts, cheese rounds and crackers. Don't miss the decorated kiwi! What's more, simple edible flowers can add so much color to the display.
Who doesn't like quiche? And these mini quiches are actually paleo friendly – made with coconut flour and filled with spinach, tomato and goat cheese. Find the recipe here! Perfect finger foods for a light brunch idea.
What better way to say brunch than with deviled eggs. Of course, these always have to be topped off with a smattering of paprika! In fact, Cooking light has 23 creative ideas to top off these devils – including lobster roll deviled eggs – YUM!
How cute are these? Ham, swiss cheese and bread with a skewer and garnish. If you don't have them, you can get the round cutters here to make these perfectly cute finger sandwiches or just use a small jar! For more info, check out these easy to follow step by step directions from ohhowcivilized. Love the tip about freezing the bread ahead of time!
If you've never tried a vol-au-vents you may want to give them a try. These bite size appetizers are made with maple cured bacon and mushroom, salmon and cream cheese or tomato with mozzarella. Ask your local caterer if they have these available – they look amazing!
Sandwiches for high tea? Yes – perfect for brunches too!
So yes we're stealing a few ideas from across the pond. Open faced Victorian tea sandwiches look amazing with the color, variety and flavor combinations! Not only for high tea – they are perfect for brunch.
Triangles of bread with cucumbers, radishes, strawberries, cream cheese and parsley. Lovely and delicate purple, white and yellow pansies decorate these lovely finger sandwiches. What a colorful – and dramatic – display!
Bagel, Waffle or Pancake Bars – make it easy for guests to build their own.
A bagel bar will really go far! You can add so many toppings such as you see here: bacon, avocado, egg slices, tomatoes, cheese, onions and more. So versatile it can be savory or sweet! Add fruit, honey cream cheese and chocolate for the dessert side. Have a toaster or two on hand for guests who like a little crunch. Read more about this wonderful display!
Waffle bars are also perfect for brunch – you'll need a high quality waffle maker and plenty of bowls or ramekins for toppings. It's fun to watch your guests getting creative with their waffle designs! Here are a few topping ideas.
Whipped Cream – amaze your guests with home made whip cream (thanks Alton Brown) from a professional whipped cream dispenser 🙂
Shredded coconut
Softened butter
Peanut Butter
Fruits (Strawberries, bananas, blueberries, or sauteed apples and peaches)
Just like the waffle bar, you'll want to have plenty of toppings for the pancake bar – fruit, sprinkles, nuts, and plenty of warm syrup!
Or mini pancakes? Yes, please. Stack these up with a skewer, top with fruit. and display on a multi tiered stand. Make sure you have plenty of warm maple syrup for pourovers.
Fruits for brunch are a given! They add so much color and variety to your tables. Add bowls of raspberries, orange slices, pineapple, watermelon, blueberries – just to name a few.
You can even get creative with heart shaped cookie cutters for your fruit – too sweet!
Speaking of sweet …
Naked cakes will work perfectly with a bubbly brunch. Not too heavy and make such a dramatic display. Here's a delicious strawberry topped cake from thecakeblog.com.
Here's a lovely peach flavored naked cake decorated with fresh flowers. The cake stand is so cute too!
Delicious custard filled pastries with blueberry toppers and sprinkles with sifted powdered sugar. A perfect touch to your dessert tray!
Cheers to the cookie baker who decorated these fun delights! Champagne bottle cookies with gold wrapper tops. If you're the baking type, you can get your own champagne cookie cutters and go for it!
These cute pink floral champagne bottles (with champagne glasses) are also adorable. Check them out on etsy and you can have these delivered from Sweet Sanctions just in time for your party!
Or how about champagne cupcakes? The frosting is made with champagne – and the gold sprinkles on top make them sparkle. For the recipe, visit Sally's Baking Addiction for step by step directions – with photos!
Accents for your Bubbly Bridal Shower
Once the menu options are chosen, you can have them printed for a more formal brunch. Here's our take on the brunch and bubbly menu with an elegant champagne flute. Easy to edit for your brunch selections.
Here's a cute berry with greenery brunch menu – simple yet so stylish!
Or a gold and silver star studded menu may fit your style.
Champagne scented candles will add a wonderful ambiance – there are plenty of choices available – including this Pink Champagne from Shimmer Creek Candles.
Here's a super sparkly DIY idea to make your champagne bottles shimmer and shine. All you need is a LOT of gold glitter, some gloves, adhesive spray and a drop cloth. Head on over to evite for complete step by step directions.
If glitter is not your syle (and it can be difficult!) you may prefer a smoother painted look to add shimmer to your tables. This beautiful shimmery gold paint makes this a standout – with not too much effort! You'll need an unopened champagne bottle (room temperature) some metallic gold spray paint and rustoleum gold glitter paint. To find all the details, head on over to celebrationsathome for complete diy instructions.
Nothing quite says party like gold confetti balloons! What's more, they add such a dramatic statement to your tablescapes!
Wine flavored t- shirts for the bride tribe!
Okay – so they are not really wine flavored – but they do have the perfect look for a more casual bubbly brunch party. You can find these darling wine themed t shirts from flamingofiesta on etsy!
More accents for your party – Champagne labels, Backdrops, all in onekits and Bubbly Bar Banner!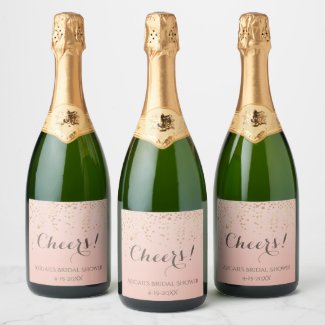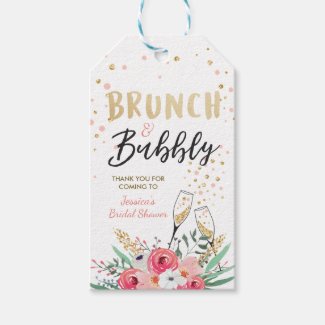 Guest Books make great keepsakes
A wedding or bridal shower guest book will make a wonderful keepsake for the couple. You can personalize your own!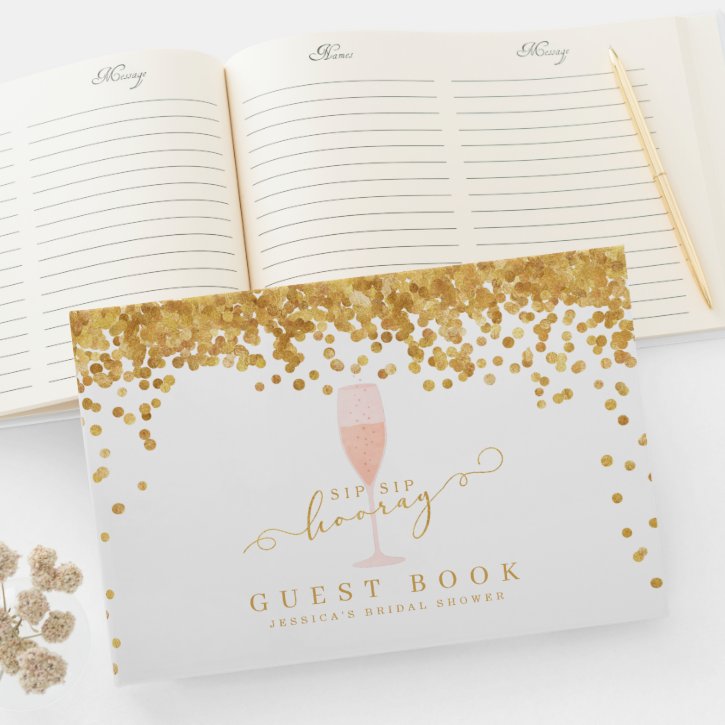 Thanks for stopping by!
If you have other ideas – or have had a successful bubbly brunch, we'd love for you to share in the comments below. Check out our blog for more shower ideas! As always, if you need a special design, just let us know and we'll be glad to help!
Reader Interactions