This post may contain affiliate links, which means that if you click on a product link, I may receive compensation. This compensation comes at no additional cost to you, and I only link to products I absolutely love (and think you would, too) and companies I trust!
---
For all you apple lovers out there, fall is the perfect time to think about planning an apple themed party. Whether you're having a zoom party, drive-by party, micro party or backyard event, you're sure to find some easy – and delicious – ideas featuring the beloved apple. Plus – scroll down ⬇ to the end and enjoy a FREE apple themed thank you card for party guests (or your kiddo's teacher!)
Set the tone with apple theme invitations
To get this apple party started, here are some fun apple birthday party invitations – from old fashioned to modern. The design below features a bright and colorful hand drawn watercolor apple with soft pink banner and "The Apple of My Eye" in script font. Fun confetti of green leaves and pink and red polka dots are sprinkled around the apple.
I also created matching paper plates, napkins and stickers with the apple of my eye theme. The apple themed stickers can be used in so many ways for decor too!
With most of the invitations shown, you can edit them to fit your party theme or style -whether it's drive by, virtual or in person. If you'd like to add a photo to your invite, this "apple of our eyel" invitation works perfectly.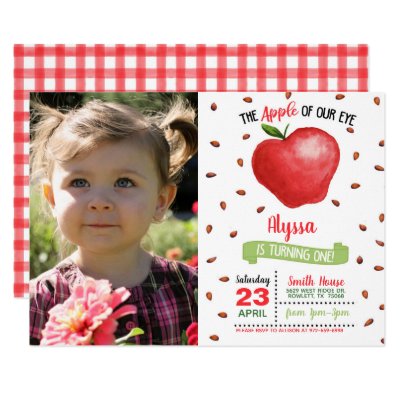 Here's a "Drive by, Honk & Wave!" invitation featuring a truck full of apples.


We love this old fashioned apple invitation featuring burlap, autumn leaves, intricate lace and a bushel of apples.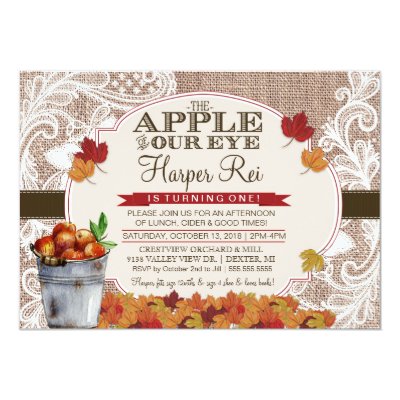 For a modern twist, here's a half dozen fun watercolor apples to set the party tone. Lovely colors!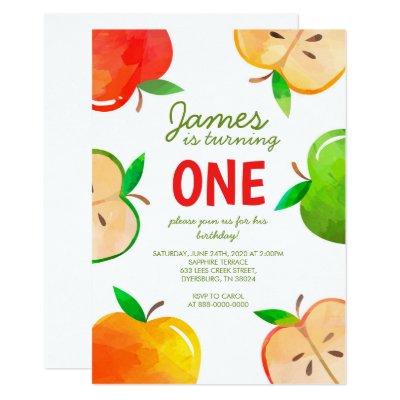 Another feel good "old fashioned" design featuring soft coral and cornflower blue – add your little one's photo and you're good to go!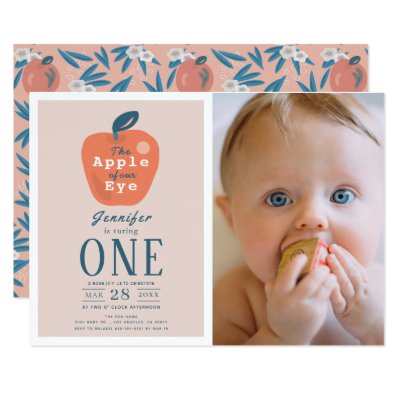 ---
Apple Cake for Birthday Parties!
Check out this giant apple cake! Your kiddo will love this – who wouldn't? For a complete "how to" video, check out this "step by step giant apple cake"
If the giant apple cake looks too daunting, what about an apple pie layer cake? Tempting layers of cake, cream filling and nuts with all the apple pie flavors! If this tastes as good as it looks, I'm all in! Here's the "how to" recipe to build this apple masterpiece.
How lovely is this? From the kitchen of modest-marce, here's the recipe for this perfect fall caramel apple cake.
Caramel Apple Spice Cake With Cream Cheese Frosting – Yum! The recipe looks pretty easy to follow. Pastry Chef Suzie Sweet Tooth says "The apples are made by tinting marzipan into various apple colors, shaping into small rounds and gently pierced with a chocolate jimmy." The nice thing about marizpan is you can change the colors to whatever you like – so fun!
Look at this adorable sweetie with her giant apple cake! Add a cute fall fabric banner (or a colorful rainbow banner) and put your apple cake on a wooden cake stand to make this a sweet photo for your little one too!
Creative apple cupcakes – perfectly applicious!
These artistic cupcakes are called caramel apple minicakes. Not only do they look amazing, the recipe looks pretty easy to follow too! For the step by step recipe, head on over to cupofsugarpinchofsalt.
These apple pie cupcakes look absolutely irresistible! From Author/Baker Jen: "You will find all the wonderful flavors of an apple pie in these Apple Pie Cupcakes with brown sugar cinnamon frosting. This recipe is super simple since we used a store bought cake mix and also store bought pie filling."
Love these super red apple cupcakes. The baker appears to have used a bright red fondant, a pretzel stem and a single green leaf accent.
Here are a couple of clever – and simple – diy ideas from bloomdesignonline.com. First up are these cute apples on a stick with a "pretzel stem" and green leaf decoration. Pop the green apples on apple skewers and tie a pretty ribbon around the base to dress it up a bit. Easy – and so cute!
Next up are these lime sherbet cups cleverly disguised as green apples. With green cupcake liners, wooden ice cream sticks and green decorative leaves, this is a wonderful treat for the kiddos. The "Apple Cream" sign is the perfect accent for this ice cream tray.
Caramel apples with a colorful twist!
Amazing bright colors – these candy apples are so eye catching! And guess what? They are not that hard to make! From Rosebakes.com, she has complete step by step instructions on how to make candy apples any color!
Or how about these sweet pastel colored candy apples? The ingredients are shown below – but be sure to watch the easy diy video for details!
4 ½ cups granulated sugar
1 ½ cups water
¾ cups corn syrup
3 tbsp white food coloring
12 granny smith apples
cooking spray
Delicious Apple Cookies
How cute are these apple cookies from Little Birdie parties. These decorated apple cookies would be perfect for your apple theme party! They're big too – over 3 inches, thick cut and beautiful!
The chef calls these "apple pie cookies" but they look like mini apple pies. Be forewarned, this recipe is not for the faint hearted! Although there are plenty of steps, the results look amazing. From the chef " I can't explain how delicious they are and a huge part of that is the homemade caramel. Each bite has the perfect combination of apple, caramel and flakey crunch."
Here's an easier recipe featuring apple pie thumbprint cookies from Food Network. Be sure to check out the easy step by step video before you start. The special apple pie filling "packs all the flavor of an apple pie in one bite!"
These smiling apple cookies are adorable! Get your own apple cookie cutter, red glitter and have some fun. Of course, the presentation in the country wooden basket is just perfect. Great for drive by parties too!

These are amazing! Hats off to Funky Cookie Studio: Jill definitely has the best looking apple cookies on the planet!
Apple Party Theme Decorations
Set the tone (and the aroma!) for your apple theme party with a lovely fragrant candle. . Grandma's Apple Pie from Grandma's Kitchen Sense,
Village Candle's Warm Apple Pie
Furr a Cause Apple Cinnamon fragrance. (Furr a Cause donates $3 from each sale to animal rescue groups)
Here's a cute apple high chair banner when your baby gets his or her very own smash cake. Easy and cute for your little one's first birthday!
How about an easy DIY Apple balloon decoration? Just get some bright red balloons and a few sheets of green and brown construction paper. Cut out a simple leaf and stem and tape to the balloons. (For detailed "how to" check out these photos on balloontime.com). The instructions do call for helium (for floating apples) but you could also turn them upside down and hang with string from the ceiling.
Smiling apple balloons add a lot of happiness to any party. (This "back to school" photo might have been pre-pandemic but moving your kiddo's desk outside is certainly is a sign of the times.) You can also hang honeycomb apples or an apple felt banner inside or out!
Apple Craft Ideas
These apple ornaments are a cute craft idea tor make ahead for decorations or party favors. They are called ornaments but they look a bit like sachets. (It might be fun to add a fragrance) Head on over to allfreesewing to get the free apple pattern!
Is this adorable? The little ones will have fun making their own apple pie with a wiggle worm. Easy, and inexpensive! You'll just need paper plates, red craft paint, construction paper and googlie eyes. For step by step instructions, visit iheartcraftythings.com
Caramel Apple Bar – Both "crafty" and delicious! Kids of all ages would love building their own "caramel apple bites". You can set out whatever toppings you like but be sure to include warmed caramel! Below are some caramel apple bar ideas: coconut, m&ms, raisins, pretzels, nuts, cheerios and more. Just put some slices on skewers and let the creations begin. Guaranteed there will not be two pieces alike!

Apple trees! Here's an inexpensive and fun craft for the older kiddos – create your own "apple tree" with green tissue paper, red buttons and construction paper. This would also be fun for virtual or drive by parties – each kiddo can decorate their own tree in advance of the party. Just as with the apple slices, you're pretty much guaranteed no trees will look the same 🙂 For the "how to" head over to iheartcraftythings.com
Apple themed gifts for little ones
If you're looking for a cute gift for a baby or toddler, you'll love this book by Edward Lear: A was once an Apple Pie … Pidey, Widey, Tidy Piedy Nice Insidey, APPLE PIE! For baby showers, this is also an adorable gift for the mom-to-be. One of my all time favorites when I was little. (You can see more of the wonderful artwork and verses with the video.)

Here's a one of a kind green apple "squishmallow". They're called squishmallows because they are "marshmallow" soft and squishy! The little green apple happens to be adorable too – great gift idea for apple theme showers or little one's birthday!
Apple of my eye baby clothes for the little one
Lovely fall colors of red, cream, blue and white make a wonderful outfit for your little girl's first birthday.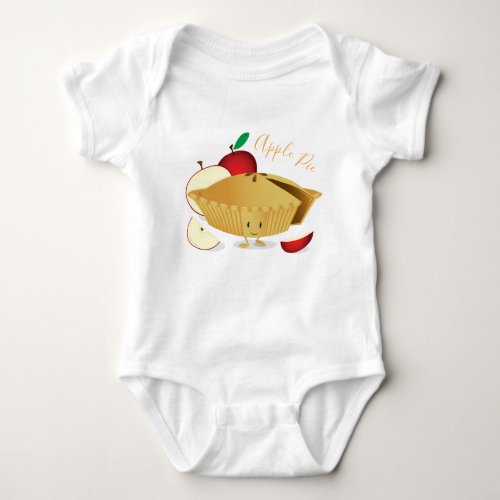 ---
Thanks for stopping by! If you have a small party favor (caramel, apple fritter, fun size candy bar). you can put in these cute apple party favors and hand out to your party goers or drive by guests. (These are smaller than they look in the photo.)
You can also attach this super cute tag to your favors or treats with "Thanks a Bushel! in fun script handwriting.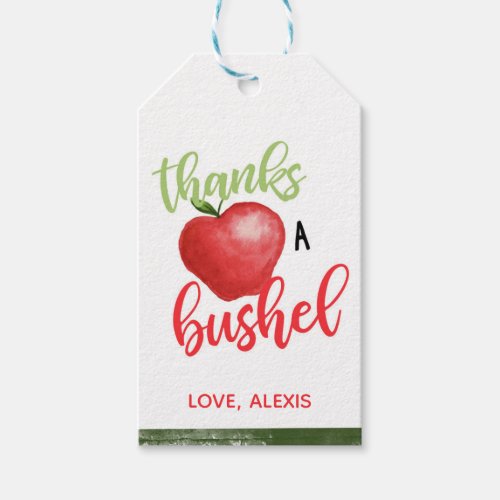 ---
Free Apple Theme Thank you Card!
Feel free to join our newsletter and download these free thank you cards. While they're great for a party, I actually created them with teachers in mind. Since this 20-21 school year is so different, I have one design with the apple a bit different too (you'll see when you download). Your kiddo's teacher would love a hand written note from you or your child to let them know how much you appreciate the EXTRA efforts they are making. You can print out at home, fold, sign and send off to school.
Sign up for our newsletter and get the freebie!
We'll send you this freebie AND instant access to our Freebie Library.
Follow me on pinterest!
If you've had an apple themed party, we'd love to hear about it in the comments. Are you looking for a special design? Just contact us and let's get this party started!
Reader Interactions